Industrial production indicator
Such an indicator (in different formulation) is included in the set of the necessary leading countries statistics, but the market is mostly affected by American data.
In the USA statistic, the account for production is conducted by establishments grouped by 255 branches. The Industrial Production Index (IP) indicator measures the change of common production in the large and secondary engineering, energetics, gas industry, and other 'consuming' branches, but excluding the building.
IP is considered the leading occupation indicator in the manufacturing industry, average earnings and personal income. It is one of a few indicators, which are calculated directly by FRS. 39% of the index are based on the physical data of the production volume, the remaining part of the index is based on worked hours of employed, and the data on spent energy sources.
The indicator is measured by index in % — full value and index change per month. The common index with the production of the building sector is published in the same report and is called Manufacturing Production Index.
American report on IP is divided into industrial and market groups, but this data has a sense only for the stock market analytics.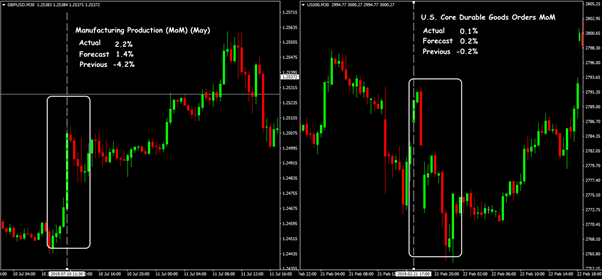 Production growth (as a rule) leads to an increase in demand for workforce and therefore a decrease in the unemployment rate. What this means is the growth of the industrial production index positively affects the income of companies, GDP, stock indexes.
The indicator strongly affects the market: the data higher of the forecast is considered positive (bullish) direction of the USD, and the indications below expected provoke the negative (bearish) direction (see Use Indicator).