Add up to our trading simulator's backtesting superpower with the Forex Smart Tools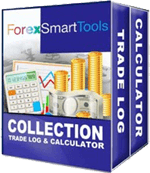 The Forex Smart Tools Calculator and Trade Log are created to help you become intelligent Money Managers and gain you entry into the elite group that actually makes money trading Forex. It's precise Money Management that is the secret that all Professional Traders know. It takes more than just great strategies, robots or signal services to be consistently profitable.
Know the exact position size you should use to keep your maximum loss to a constant, regardless of how big your stop loss is or which currency pair you are trading. This is computed for each trade, based on your risk profile settings, the pip value of the currency pair you are trading, and the stop you have set. Knowing this in advance allows you to maximize your position size, without taking on more risk than you intend. It also allows you to accurately reduce your position size when a stop is larger than you ordinarily trade, and still be able to take the trade with safety.



The ForexSmartTools Calculator is designed to display your assets in your own currency in however many digits your broker uses. It quickly figures in Bid and Ask for you and has the ability to calculate in standard lots, minis, micros, macros or units. Quick and easy calculations show you where your Stop Loss and Profit Targets are and what they will look like on your chart. The Calculator shows you the percent gain you stand to make, as well as the percent loss you will incur if the trade doesn't work. In this way, you will always know exactly how much you are willing to risk for each trade. Extra options are built in for those who use Stop and Recovery strategies, or those who want to find their Break Even quickly when in a multi leg trade.
The ForexSmartTools Trade Log is a state of the art customizable Log that is designed just for your style of trading. It keeps an accurate log of all the trades you take, by day, week, month and year. Make your tax reporting easy. Compare your different strategies, trading times of the day, patterns and see what is working best for you. Become your own Accountability Coach. Use the Trade Log Projected Annual Returns page to let you look to the future and set realistic trading goals.

For more information go to Forex Smart Tools site