Application in the trade strategies
There is no special and «super profitable» trade strategy for the ADR indicator – after all, it is an auxiliary technical tool (A Unique Way to Use ADR to Your Advantage).
Of course, it is easy to give an advice, but from the point of view of the fundamental analysis, the Average Daily Range boundaries aren't the accurate support/resistance levels. As a result, it isn't recommended to trade in a reliance on the firm breakdown of these lines.
However, the use of ADR allows to calculate the size of a potential Take Profit/Stop Loss benefit, taking into account historical and current volatility of the asset. As an example, we will give a technique that is especially popular among scalpers:
Breakdown of the morning flat
Because of the fact that American and European exchanges are closed during the Asian («night») Forex session, market volumes are weak, and an active movement on the main currency pairs begins with the opening of trading floors in Europe.
It is the time when the volatility begins to increase. It defines the direction of movement, at least, till the middle of the European session or till the moment when the statistic on EUR, GBP, CHF appears.
Pending orders on the ADR range boundaries allow to take 10-12 (and even more) points of a profit.
However, modern analysts recommend «to catch» such a moment when the trading in the Chinese market is already closing, especially during the periods of expiration of the futures contracts or large options on the Asian stock exchanges.
In that case, the ADR indicator can be used as an additional filter while setting out the Asian session range, as well as for definition of the profit purposes, for example: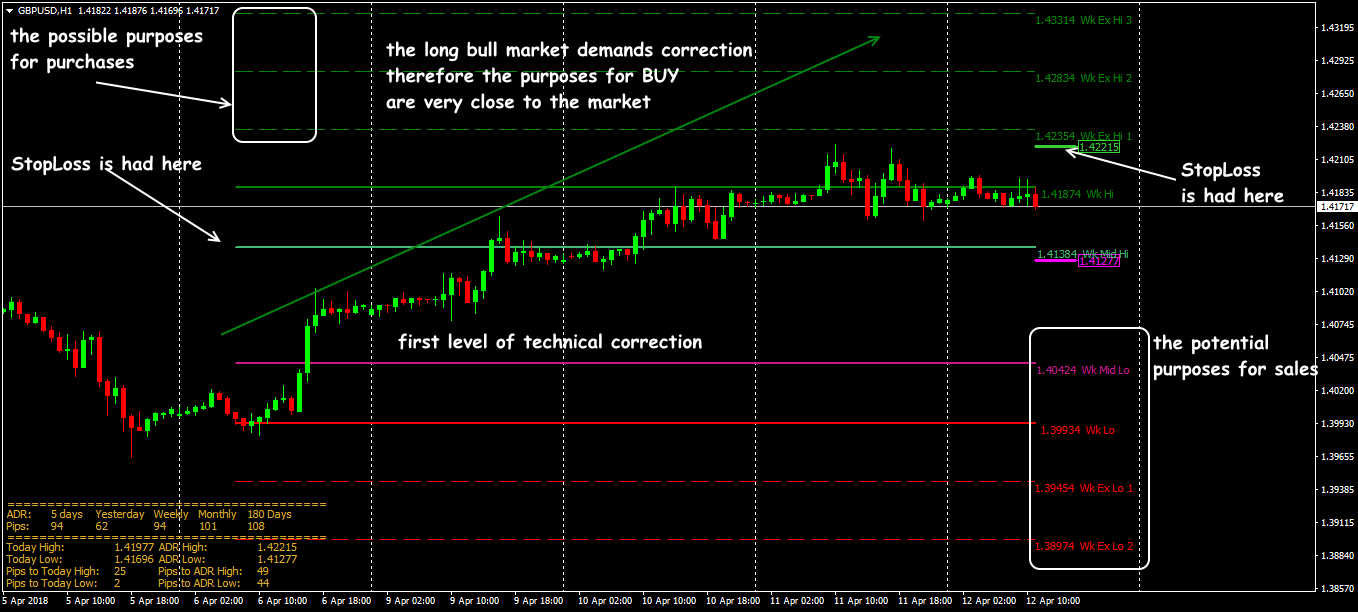 What this means is:
We place Take Profit several points above/below the ADR levels because it is a daily average range and the deviations in both sides are probable enough.
If the first pending order has fulfilled the minimum profit and the short-term consolidation begins, then it is possible to put the Limit-order to the opposite side («on the rollback») with the purposes in a zone of the second boundary of the ADR channel.
If any of the established pending orders hasn't been opened within a trading day, then they need to be cancelled. The next day, it is recommended to put new positions taking into account parameters of closing of a day candle.
Reminder: we don't put pending orders for the breakdown and we don't enter the market at all if the current price is too close to the calculated borders of the ADR channel! We don't buy near the top boundary and we don't sell near the bottom boundary of the range.