Full capital method
The simplest yet dangerous method: we enter the market with max volume, max risk and no Stop Loss.
Even if you are 100% sure about the correctness of your deal — such trading finishes quickly, since there's no right for mistake at all. One failed deal kills the entire profit with the deposit.
Such "all in" on the financial market is an absolutely unjustified risk. However, there is a scheme when one can earn even with such money management.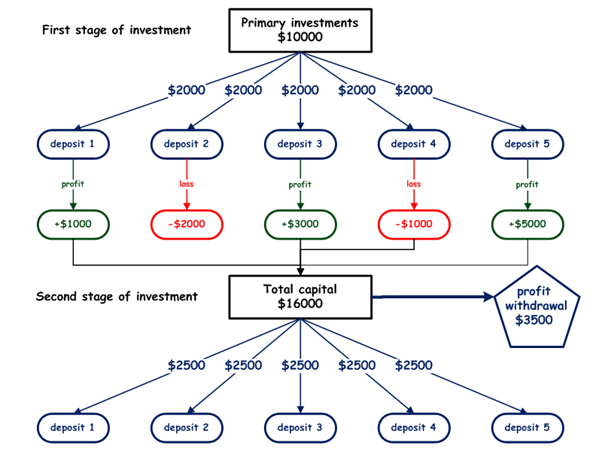 We invest the initial capital into a few trading accounts (multiple brokers are possible), where we trade "for the whole bank" using various assets, periods and strategies. As a result, trading depends less on large loss-making deals and gives an opportunity to test a few strategies.
At some moment the trading stops, money is gathered in the one amount taking into account the loss-making/profitable accounts, and a part of the profit is monetized.
The rest of the amount is once again distributed on a few accounts and the scheme is repeated.
The result?
Such trading is very difficult psychologically. It can be applied, for example, through participation in a contest on cent or demo-accounts, where the maximum result is required and there no real losses.
Even a short-term "acceleration" of the real deposit with such a method is very dangerous: a stable strategy is required, with which an average profit surpasses an average loss 3-5 times as a minimum.
But if a trader has such a methodology, why risking so much? It's better to calmly trade with less dangerous deals.