Application in trading strategies
Pivot Points are used in intraday systems to enter when one of the levels is reached and to determine the "quality" of the price zone breakdown or as the target levels of profit or protective orders.
For example, the usual method for selling is as follows: the price touched one of the resistance lines - a reversal candle is formed - we open order on the next bar.
Stop Loss is set at half of the distance to the next level; Take Profit is placed at the first level after a turn. For a purchase transaction, we reason similarly.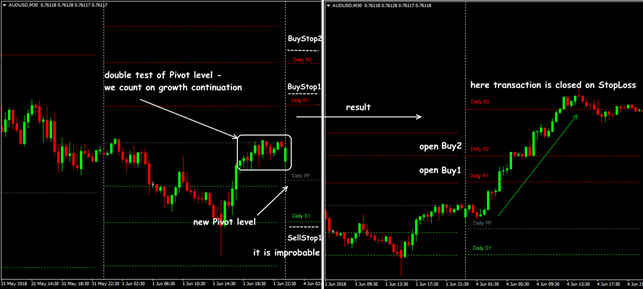 It is worth paying attention to the price behavior in the zone of the Pivot Points lines and not forgetting about the main candle patterns.
On assets with stable volatility, the dual-crossing trading strategy for Pivot Points is popular − see the screenshot below.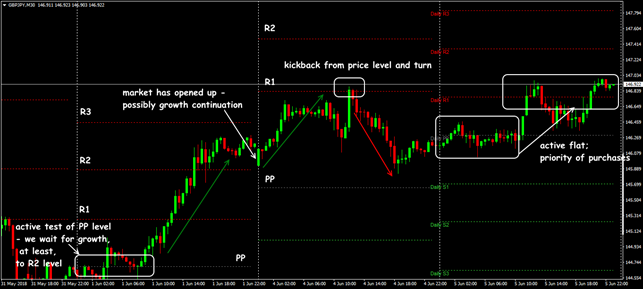 Theoretically, any trend should stop in the zone of S3 or R3, but most often, a reversal occurs at the second support/resistance level.
Levels R2, R3, S2, and S3 are used to close the deal, since by this time, the market has already been overbought or oversold, and the last levels rarely break through.
The mutual position of Pivot Points depends on the movement range for the previous trading day (see Using Graphic Tools).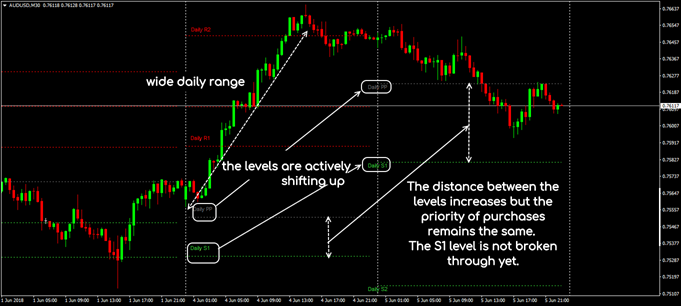 We recommend to simultaneously analyze the levels of several periods, for example, H1-H4, M5-M15-M30. The coincidence of the levels of several timeframes significantly enhances their trading value − in such zones, you can place pending orders to enter the breakdown.
If the price freezes for a long time in the zone R1-PP-S1, then it is better to wait until the market determines the direction.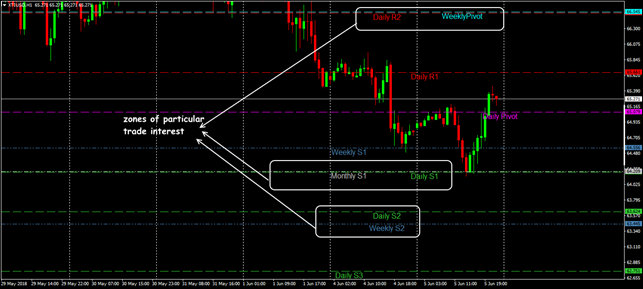 From the point of reasonable money management, when trading at Pivot Points levels, it is recommended to divide the transaction volume into at least two parts for different purposes: the first Take Profit is put on the nearest level; the second Take Profit is at the next.
It means that when the first Take Profit is triggered, we transfer the second order to breakeven and then enable trailing to the second Take Profit.