Trading signals of the indicator
As for the Rate of Change signals, there are no tricky secrets − everything is traditional for oscillators, which are calculated only on the basis of price, without taking into account trading volumes.
Trading on the breakdown of the balance line
The zero-line crossing from bottom to top − is a buy signal, from the top down − the sell signal. For the reliability of entrance, it is recommended to open a deal in case of breakdown of the boundaries of flat zone established at levels of 10-20% above/below the balance line.
Reversal from critical Zones
If the ROC line is extremely high and then turns down, this indicates that the trend continues, but market activity is declining, the bullish trend is slowing down. If the values of ROC form extremely low values (depressions) and start to grow − sellers are weakened, but the bearish trend is still preserved.
In such situations, it is useful to establish the boundaries of overbought/oversold zones, but if the absolute values of indicator are used, then such levels must be periodically adjusted. We open a deal when the indicator line leaves the critical zone.
Quite often the price continues to update the extremes, but at the same time, ROC moves in the zone of zero line.
This is a very dangerous time to enter against the main trend, although you can try to trade for a retreat from the border of the flat, checking that the current trend is maintained. If there are previously opened positions, it is strongly recommended (at least partially!!) to lock in profits and move Stop Loss closer to the current price.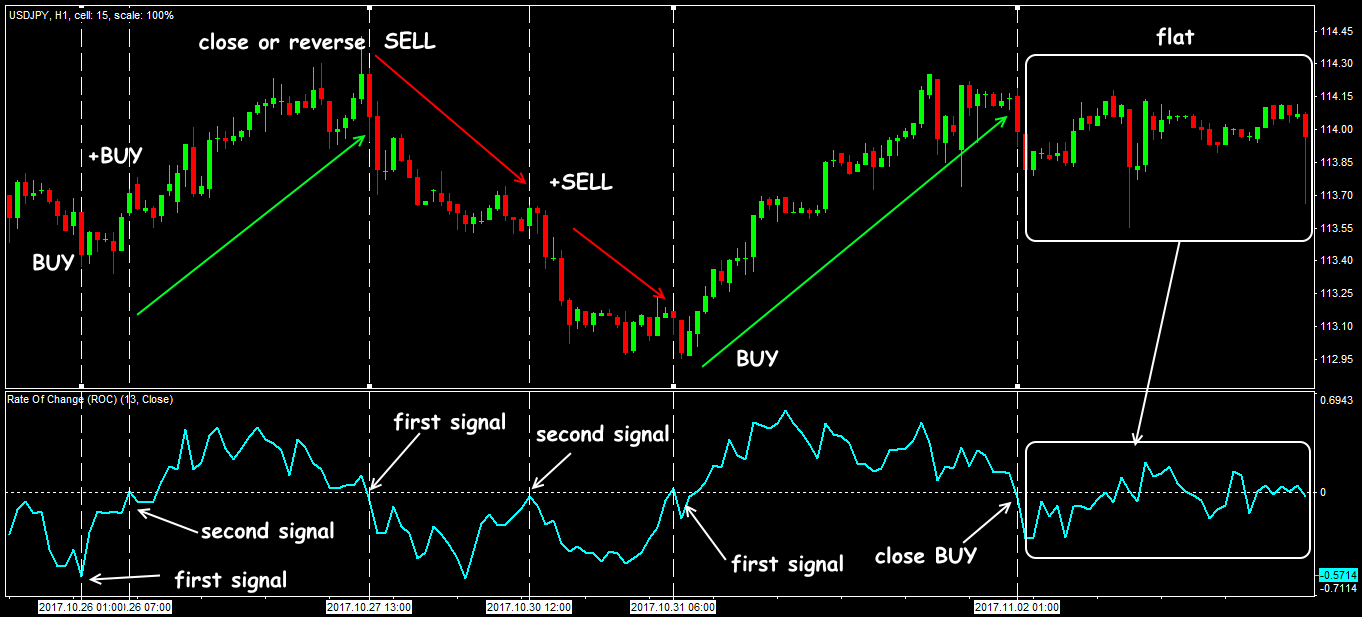 Bullish divergence: if the higher max price is not supported by a higher ROC value.
Similarly, a bearish convergence appears if the lower min price is not confirmed by a lower value on the ROC line (see Using Graphic Tools).