An introduction to the concept of "tick volume"
Initially, goods, and then the rest of the financial assets, were sold on the stock exchange by the principle of auctions, and the trading lot (goods, raw materials, share) were rigidly standardized. In this case, a fixed trade with an optimal (usually maximum) price was considered a trading tick, and a standard volume, respectively, was the tick volume (see Volume and volume indicators).
During the process of the exchange development, direct trading orders to brokers (intermediaries between the exchange and customers), which contained the price of the asset and any, including fractional, quantity, came to replace the auction.
The market price began to be determined by the volume of demand in its classical formulation. That is, if the price offered in the transaction differed from the current market, the transaction became deferred and formed, depending on the direction (purchase/sale), an exchange offer or demand.
The broker put the order into action when the market and order price had the same (or acceptable within the spread) value.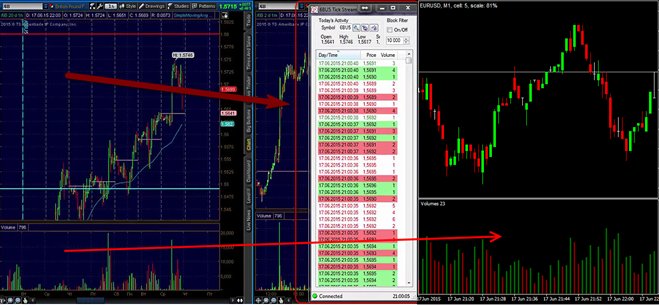 The price multiplied by the desired amount of an asset in the transaction, in total expression, is the tick volume - so the modern market understands it.
What we see today in the Forex terminal represents the number of price ticks per unit of time, where the tick itself is the "trading fact" of the change in the asset price by one base point. The tick works as a statistical counter of fluctuations and is not connected to the amount of money in transactions.