Trade signals of the indicator
RSI offers a standard set of oscillator signals; the line points in the critical zones and in the balance area are considered optimal. So …
Breakdown of the overbought/oversold zone
The indicator is the most effective as a market filter: you shouldn't buy when the market is overbought (RSI is above the upper limit) and shouldn't sold when the market is oversold (RSI is behind the lower level).
We open SELL if the line makes a turn from up to down from the overbought zone (above the 80/70/60 levels), and we open BUY when it is the bottom-up turn from the oversold zone (below the level of 20/30/40).
The signal to close a position (or to move Stop Loss closer to the price) is a reverse turn from the opposite critical zone.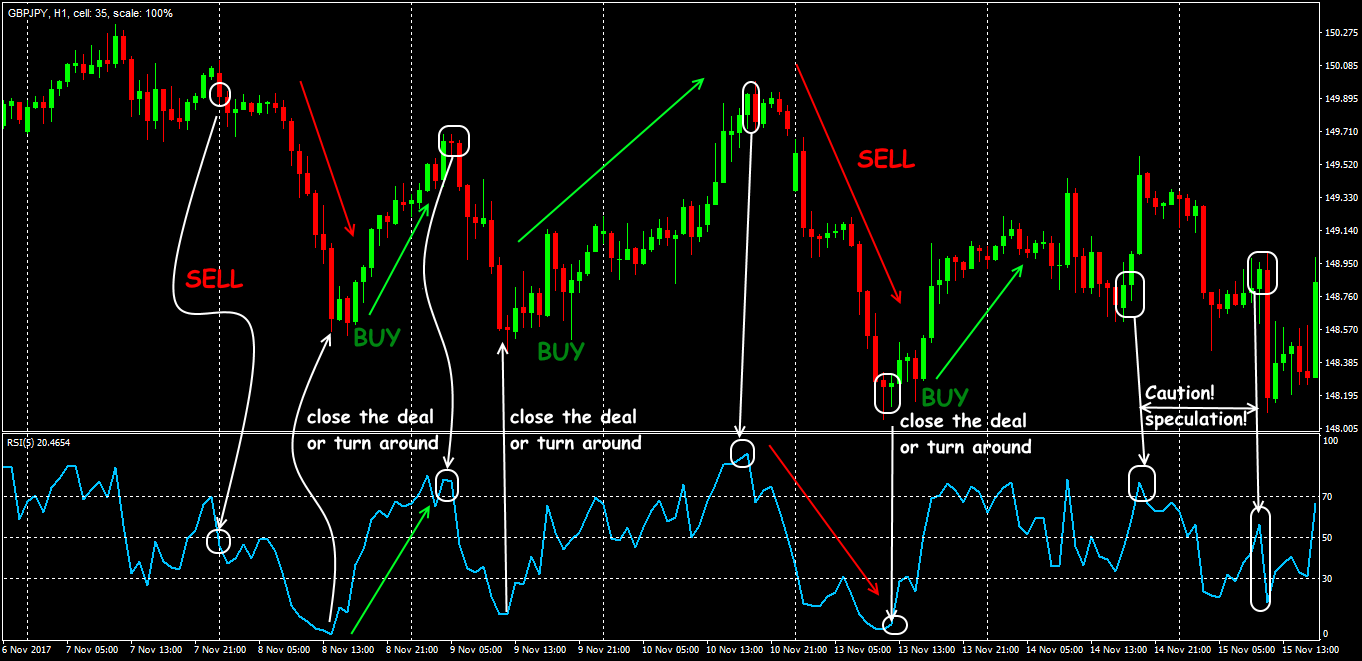 Reminder: such signals are valid only in the direction of the main trend.
Of course, the usual exit of the indicator line beyond the critical zone doesn't mean that you need to open a deal immediately. The market can be in an overbought/oversold state for long enough. Of course, the oscillator warns of a trend change in advance, but it doesn't say when exactly the price will make a turn.
Breakdown of the central line (level 50)
Everything is as usual: breakdown of the line from bottom to top means a buy order, from top to bottom – sell order. Such situations work reliably only on the trend areas, during the flat periods there are too many false signals.
You can use this to analyse the main direction: on the uptrend, the RSI line should move above 50 (open only BUY!); if you think that the price is falling, then make sure that the RSI is less than 50 (only SELL).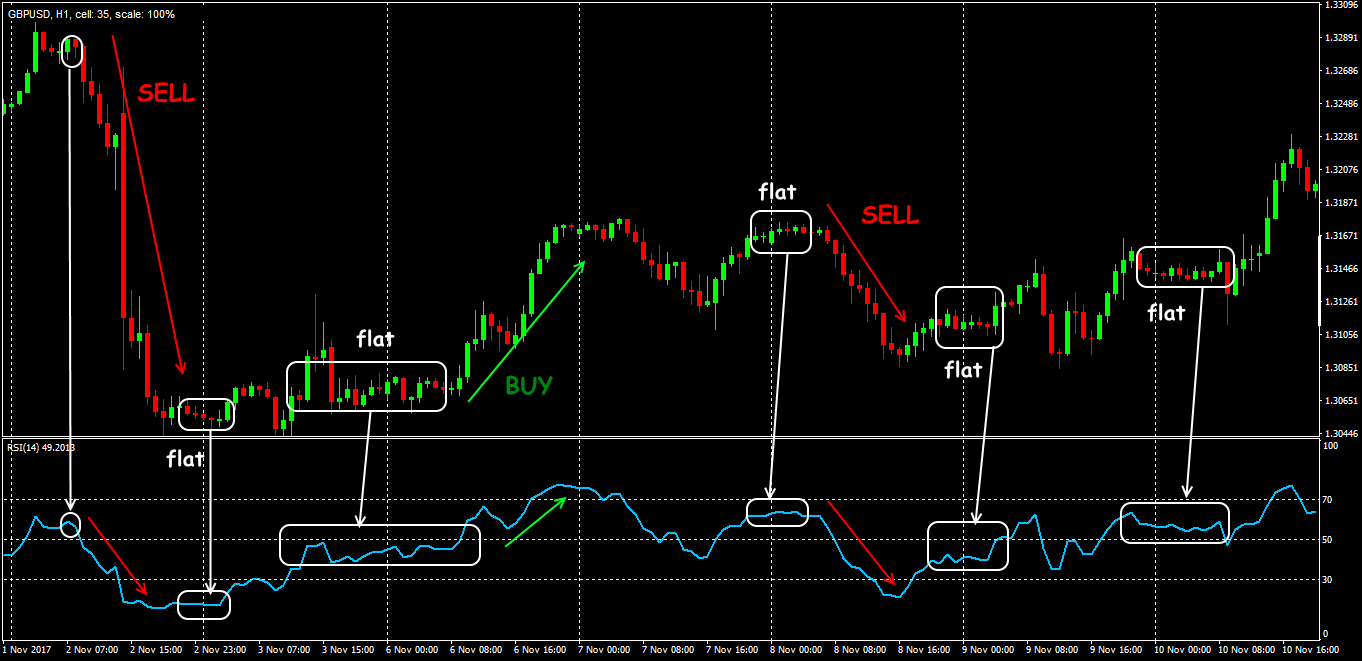 Reminder: the market is often consolidated on the balance line, but in the active trend, the line is used as a strong resistance.
The author considered all kinds of divergence between the price and the oscillator line to be the strongest signal for RSI: we are waiting for a reversal or, at least, a strong correction.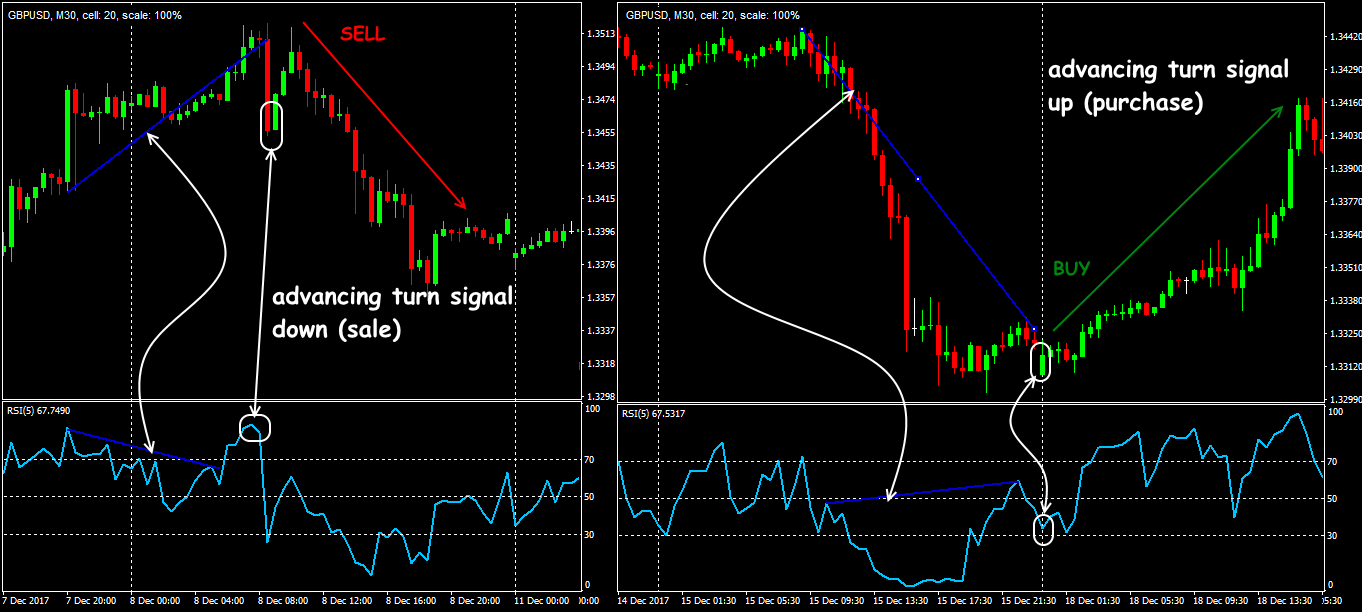 But if the range between max/min divergences on the RSI chart is less than 7 or more than 50 periods, then it is not recommended to open deals.