The way from the casino to the exchange
A surge of interest in risky techniques has emerged with the development of a fast financial market. The idea of ​​a jackpot in a million haunts many beginners, especially those who consider the ability to play cards, such as poker, a guarantee of success in trading. Plus, the "inspiring" popular culture is actively shaping the image of the exchange as a financial "casino" (see Forex Trading the Martingale Way).
It is believed that the Martingale system has an advantage in the financial market - we can conduct a market analysis before opening the first transaction, thereby increasing the chances of success of a potential "chain" of orders.
The value of any stock (theoretically) can drop to zero, which is why only a few people are fond of Martingale on the stock market, which cannot be said about foreign exchange assets that, even in times of crisis, always have a non-zero value.
Forex is especially attractive for strategies with progressive growth in the transaction volume, for example, based on a price pullback. Besides, in currencies, you can earn money on the carry trade and use technical methods to avoid losses.
We remind you: any Martingale system has a negative expected value because it uses the mathematical concept of infinity, which can be applied to real money only in the form of black humor.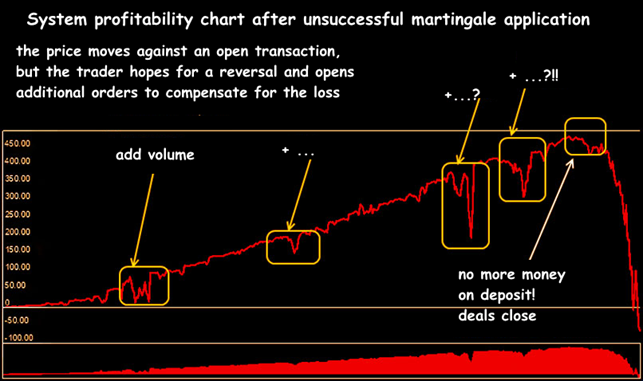 In addition, the "pure" mathematics of roulette in trading is complicated by additional losses: with the increase in the transaction volume, the costs of its maintenance (spreads/swaps/commissions) increase.
No forecast can tell how long you will have to keep orders open and how many additional transactions will be required. Alas, money in the Forex casino departs from the account faster than at the same rates in the usual casino.
Those whom we have not yet been able to dissuade from this dangerous tactic should continue reading.