Flag pattern implementation examples
According to the theory, the price should test the key border at least twice in the Flag area, after which the breakdown can be considered a trading signal.
We remind you: you need speculative throws of prices, for example, during the news publications, and the parts of Flagstaff are completely different situations. In the first case, the reverse rollback occurs almost on the next bar and at least by 50-70%, and in the second — the price rolls back gradually, in waves no more than by 20-30%.
When forming a horizontal Flag ("Rectangle"), the signal strength during breakdown will be average, and you need to work with such a pattern using the usual flat breakdown technique.
For the correct formation of the Flag figure, the distance covered by the price during the formation of the Flagstaff should be at least twice the width of the base, otherwise, the Flag can be mistaken for the usual three-wave (ABC) correction, which can turn out to be a reversal.
There are two methods that are used for trading solely on graphical analysis without additional indicators.
First method
A fully formed Flag pattern is needed; it is assumed that 4-5 waves pass until the breakdown in the area of the "cloth".
After the third (approximately!) wave, we place a pending order (Buy Stop or Sell Stop) at the level of the previous local min/max in the direction of the breakdown, or enter manually after fixing the key candle outside the figure.
We coordinate the goal choice with the general situation in the market. The maximum goal is the size of the Flagstaff; the more probable is the difference between the height of the Flagstaff and the width of the Flag's base (see Using indicators).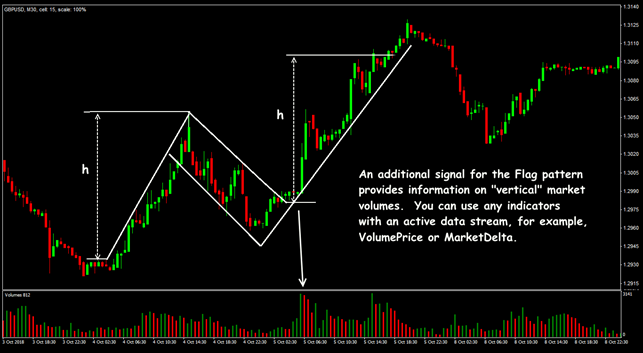 Statistics show that the Flag breakdown, as a rule, is worked out by 60-70%. It means that after 50% of the potential range we pull the Stop to breakeven and then continue pulling by trailing in increments of 10-15 points.
Second method
Drag the usual Fib grid on the length of the Flagstaff and then proceed according to the standard scheme:
either enter from the level of the lower border crossing (38.2), Stop Loss is behind the key level;
or put a pending order at the price of the upper boundary and the Fib level crossing (23.6), Stop Loss is at the next key level.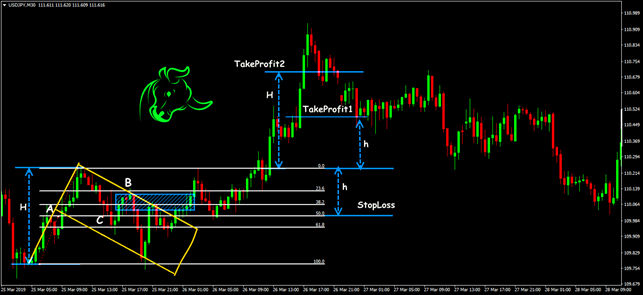 The first Take Profit is the difference between the Flagstaff + Stop Loss and the width of the Flag, the second — is the entire height of the Flagstaff from the entry point and further — as the market allows. We use Stop Loss and trailing according to the scheme above, adjusted for the volatility of a trading asset.