Basic Forex Graphic Models
Visual analysis is based, in addition to psychology, on the economic factors and reflects a constant search for balance between bulls and bears.
The models help not only determine the direction but also set approximate target levels that the price should achieve in the process of working out the figure.
The trader only needs to identify the patterns correctly and make a decision to enter the market according to the recommendations verified on the price history.
Let's take a closer look.
In fact, no "figures" arise by themselves on the price chart; you must independently "discern" them in the complex of bars. There are no obvious trading signals either – only the forecast of the most probable direction and some key levels.
Any trading technique works with two groups of figures: the continuation of the trend and its reversal. Technical analysts still identify double-interpretation figures with unlikely trading signals.
As a rule, the constructions are carried out at a closing price, although there are alternative opinions - on extreme (max/min) or weighted average values.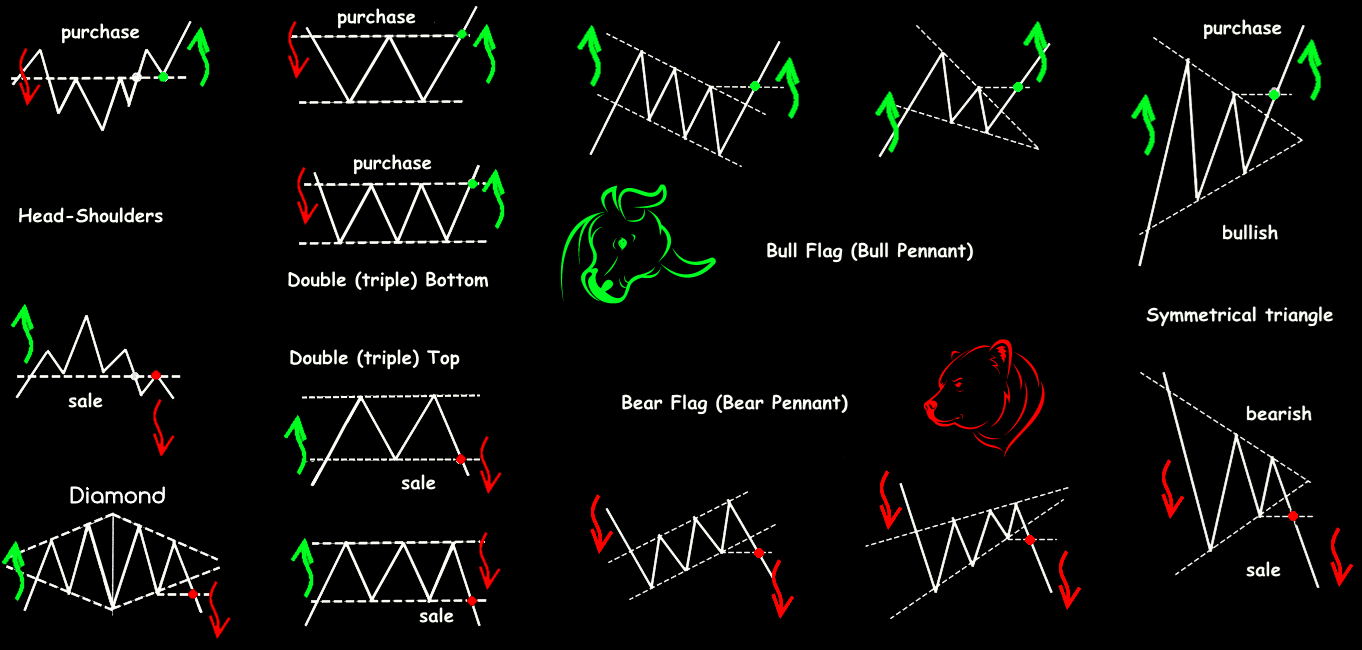 Trend continuation patterns define the current state of the market as a technical pause, after which the price moves in the same direction: various flag versions (pennants, wedges), rectangles and zigzags, as well as some price gap options.
Pivot figures suggest a change in the current trend, which requires the accumulation of market "interest" in a new direction. It means that such a model takes much longer to form.
The main ones are: "Head-Shoulders", "Multiple Top-Bottom", "Round Top-Bottom", various types of "Butterflies", as well as exotic figures "Bowl", "Diamond", "Spike", "Dragon".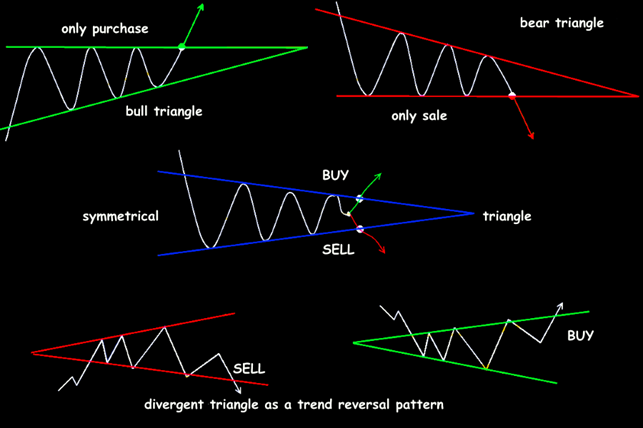 Forex patterns under the general name "Triangles" are distinguished into a separate group, which, depending on the shape, can work either as continuation or as reversal patterns.