Calculation procedure
It is believed that traditional Japanese candles give a maximum of price information: prices max/min and open/close for the billing period.
At the same time, no calculations are made − only real data is displayed on the graph. Exactly ordinary Japanese candles are a source of information for the indicator Heiken Ashi, which displays bars of the standard type − with the body and shadow, and the color of the bar corresponds to the direction of the trend.
Key points when forming «synthetic» bars are calculated so:
opening price of haOpen= (haOpen[n-1]+haClose[n-1])/2 – the average price of the previous bar;
closing price of haClose = (Open+High+Low+Close)/4, or average price of the current bar;
maximum price of haHigh=Max (High, haOpen, haClose);
minimum price of haLow=Min (Low, haOpen, haClose).
It is assumed that in these formulas the concepts «Open», «High», «Low» and «Close» refer to the current bar; prefix «ha» − to the calculated data of Heiken Ashi.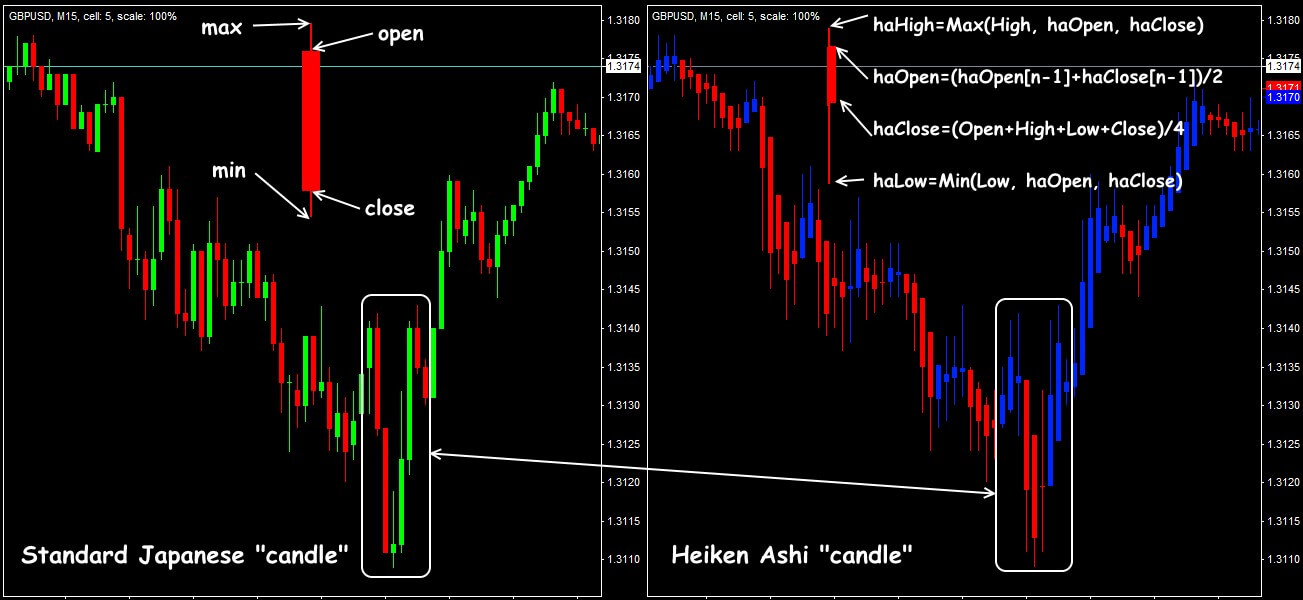 Characteristic of the diagramme of Heiken Ashi is that on the sure ascending trend the majority of «bull» candles has no lower shadow; respectively − on the descending trend the majority of «bear» candles has no upper shadow. On diagrammes of Heiken Ashi there are no price gaps as the new candle always opens at the level of the middle previous (also see here).
What this means is:
The indicator «draws» bars with some deceleration (and trading signals are late too!), as the prices for creation of the current candle of Heiken Ashi depend on the prices of the previous candle.
This «built-in» lag simultaneously is the main advantage and the only drawback of the Heiken Ashi technique for different kinds of traders. This indicator warns against premature «false» inputs and «false» breakdown levels. Therefore, it is simply indispensable when working with volatile assets, for example, yen cross-pairs, such as EUR/JPY or GBP/JPY.