Application in trade strategy
MFI at Forex market is often used as an additional filter in the zone of the strong price levels, as well as for the analysis of volumes in complex strategies.
Let's consider some options how to use the characteristic features of the indicator's histogram.
Strategy on the «pink» bar
We remind: the «squatting bar» of the histogram of BW MFI carries out a role of a compressed spring − the market accumulates energy before the strong movement (volume grows, but the price does not move yet).
Once Bill Williams proposed an elementary trading strategy:
After the appearance of the «squatting bar», you need to set the postponed warrants of SellStop and BuyStop 2-5 points below/above the boundaries of the last closed candle.
Stop Loss − is obligatory.
As a rule, one of the orders is opened already at the next bar and then the price continues to move, at least 2-3 bars. This is quite enough to «take» a profit of 10-30 points. After one of the postponed warrants opens, the second warrant needs to be deleted.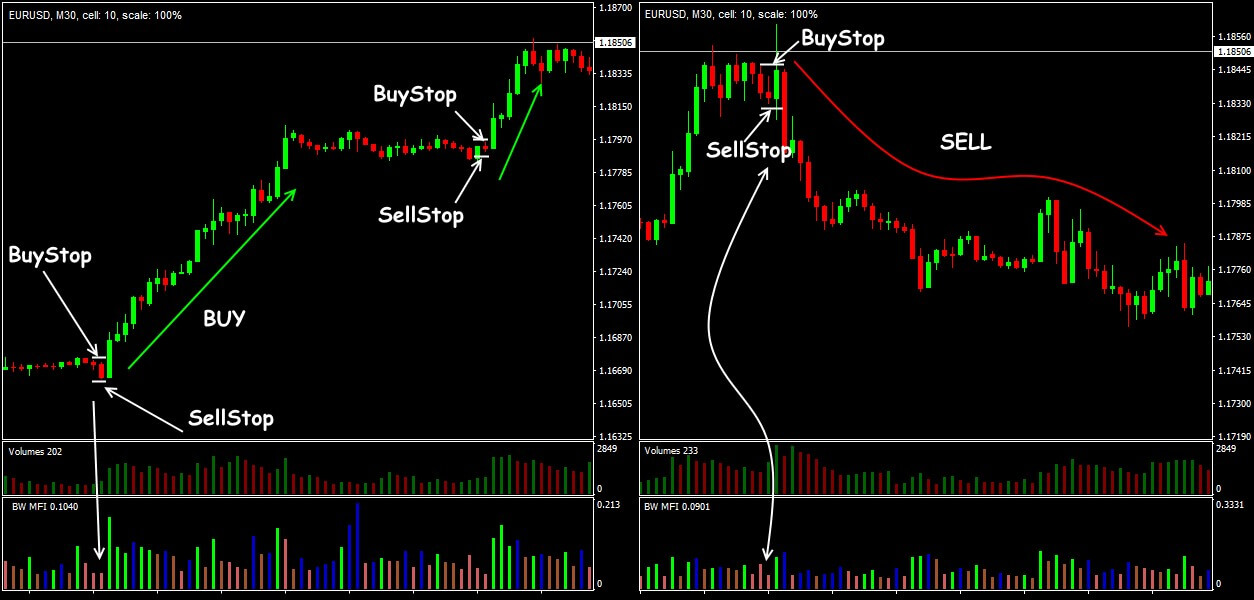 Strategy Forex Cream
Indicators required: Market Facilitation Index and Volume (Tick or Real), timeframe M30.
It is assumed that if the BW MFI is growing, but volumes are decreasing, then this is a sign of a stable trend.
For BUY: the price is a green bar with small shadows, MFI is the blue bar, MFI's growth relative to the previous bar is more than 20% (or better − 30%!). The sign of quality is a candle with a body larger than the sum of the shadows.
For SELL: the price is a red bar with small shadows, MFI is the blue bar, the MFI drop in relation to the previous bar is more than 20-30%.
Stop Loss for purchase: (LowPrice − (High-Low) / 3); for sale (HighPrice + (High-Low) / 3).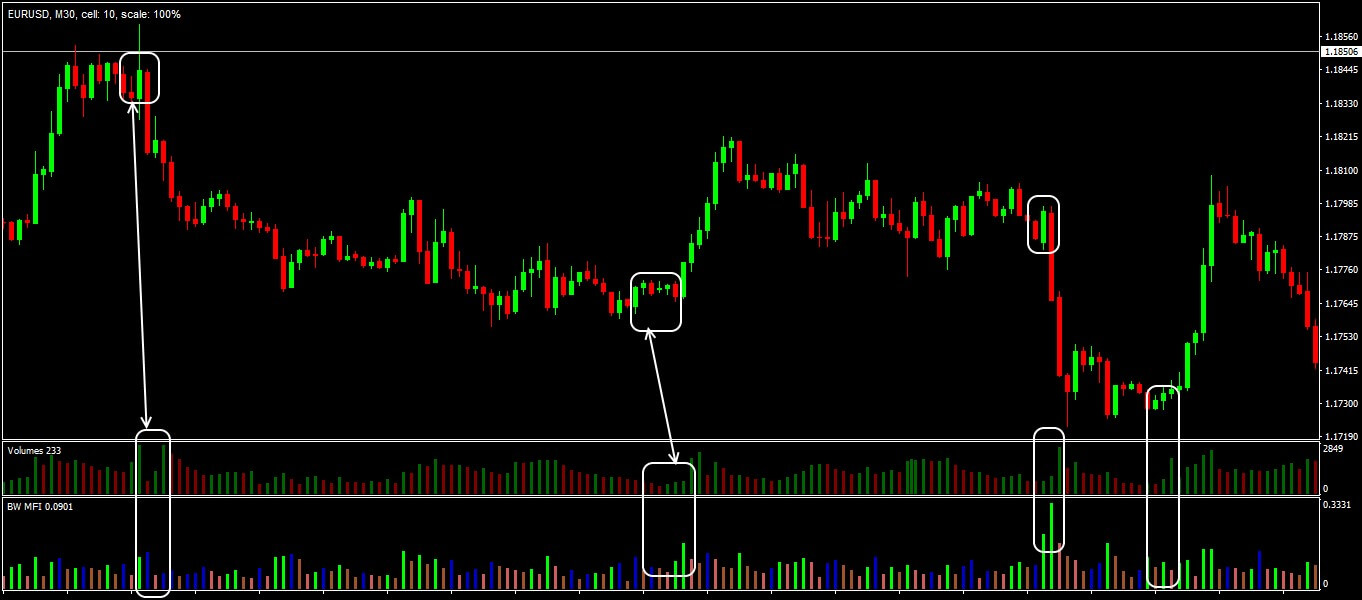 Strategy of a volume scalping
One more scheme of the Market Facilitation Index and Volume indicators (Tick or Real) usage. We will configure MFI so that only the sharp growth of volume (green bar) will be displayed. Depending on the direction of a candle on which there is a green bar MFI, we define the direction of the transaction − we sell or we buy, Stop Loss is set below/above a signal candle.
However, what this means is:
Such system will generate too many false signals. It is not important for the MFI indicator how much the previous volume has decreased − by 1 tick or 100 ticks − it will «draw» a green bar in any case.
Therefore, for the more accurate assess to the market's interest, a Volume indicator is added to the strategy. We open the transaction, only if the MFI signal is additionally confirmed by the dynamics on the volume histogram.