Application in trading strategies
The main trend determines the direction of entry into the market, that is, in the bull market − only purchases are conducted, in the descending − sales only.
Particular attention is paid to the current market volumes: the price movement in the direction of the main (long) trend should occur at an increased volume and the movement against the trend − at a reduced volume. The culmination of volume may indicate the completion of the trend.
Long (narrow) consolidations can be a sign of a reversal and the formation of future strength levels. Short periods of flat are treated as temporary stops before the trend continuation (see EMA and Price Channel Trading Strategy).
Be sure to note that the indicator is being redrawn. Speculative price spikes quickly change the boundaries of the channel, and trading signals may not be correct.
To reduce the risk of an unsuccessful entry, you should use the Price Channel in conjunction with any trend tool and try to trade only on a strong trend.
The most popular strategy on Price Channel indicator is described in a book «Street Smarts: ...» by Linda Bradford Raschke and Laurence A. Connors, and it is called
«Turtle Soup Plus One»
The work rules for a long position (build yourself the algorithm for a sell):
The market shows a new min, and the current bar closes outside the channel (the previous min − at least 3 candles earlier).
We put the pending buy order at the next bar at the level of the previous min; if the order does not work out during this bar, the transaction is canceled.
After the position opening, we set a Stop Loss of 1 to 3 points below the lower min.
We close part of the transaction volume after 2 to 6 bars and then move Stop Loss using trailing until the price movement is fully worked out.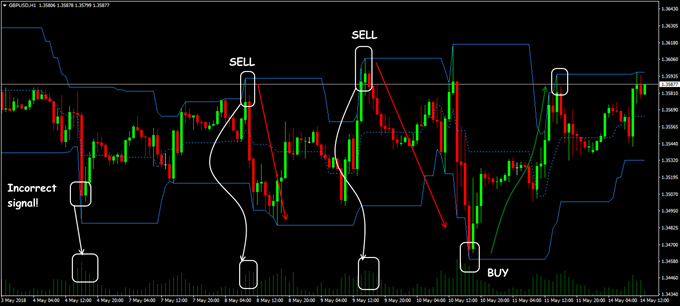 The classic Donchian Channel technique assumes the constant presence of open positions, so the trader has another problem - the exit points (or reversal).
The author of the strategy believed that a long position closes only at the moment a sell signal arrives (and vice versa). Perhaps this behavior is justified on the stock market, but it can be dangerous on Forex.
Therefore, for the correct output, we combine the Price Channel with indicators such as ADX — to control the trend strength, or ATR — to assess the current volatility (see Using Indicators).
The problem of the correct output can be solved using the following procedure.
The strategy with two indicators of Price Channel
We build two channels with different periods on a chart. It means that we consider a buy signal to be a retreat of the support line with a shorter period from the line with a longer period.
Conversely, a sell signal is a rollback of the resistance line with a shorter period from a similar line with a longer period. For convenience, you can change the colors of the indicator lines so that they differ.