Trade signals of the indicator
At once we warn: to use critical points of the indicator as signals for an input − is risky enough. Its lines are used only for analysis, but the trading solution must be taken with the help of additional tools (see Graphic tools)
The result of the using of the indicator is an estimate:
Trend Directions
The short-term trend is determined by the relative arrangement of the green line with respect to the red line:
the trend is considered ascending, while the green line moves above the red line;
if the green line is below the red line, the market goes down.
The yellow line indicates a long-term trend and most of the trading time moves in the range between the levels of 32-68 − with the exception of speculative moments. This line will define key turns for change of a trend.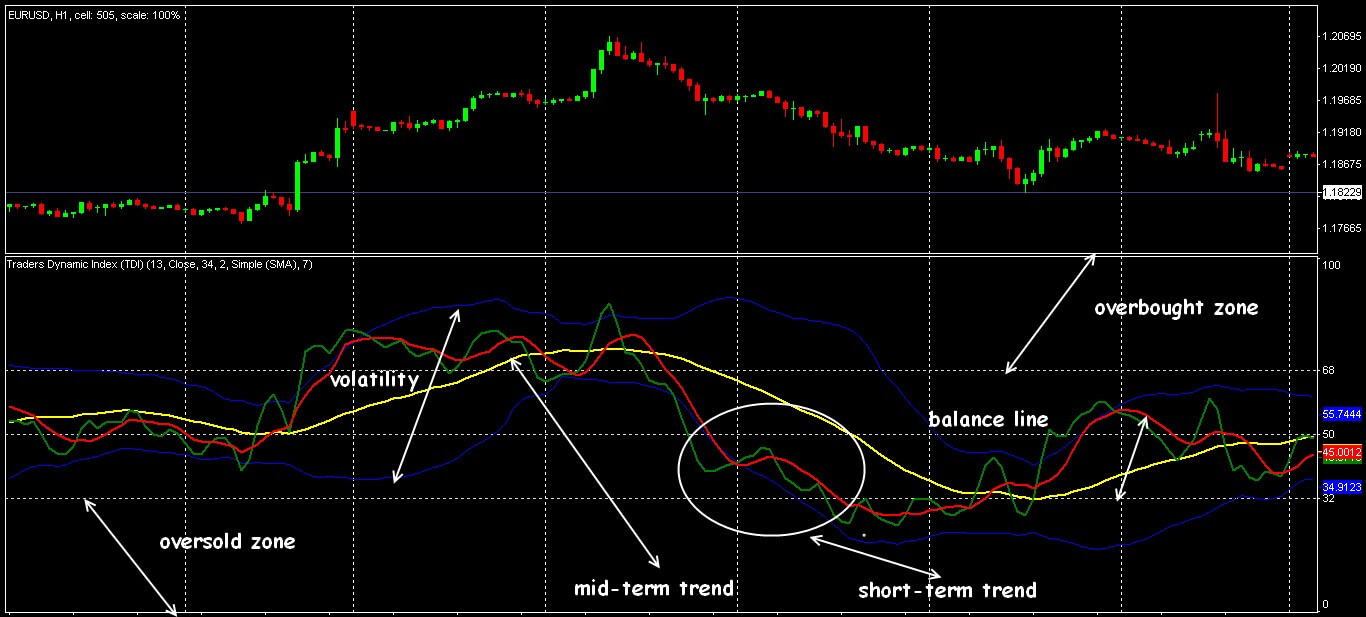 The global trend is defined similarly: by the arrangement of the yellow and red lines. While the main trend line is pointing down and the red line is below the yellow one − the trend is confidently bearish; for a growing market you need a mirror image − the yellow line looks up and the red line moves above it.
If the yellow line moves below the level of 32, then the market has reached a local minimum, so a breakdown from bottom to top with a high probability means a turn toward the «bulls».
The main line above level 68 − on the market a local top is formed, breakdown of the level from top to bottom suggests preparing for a turn towards «bears».
Trend force and the range of volatility
We perform the analysis of the relative location of the blue channel BollingerBands and RSI lines:
If the channel borders diverge and the green line forms a strong direction (up or down), then there is active volatility on the market (the probability of strong directional movements or continuation of the current trend is very high);
The greater the angle of the green line, the stronger the players in this direction;
If the channel lines converge, and the RSI line shows short («nervous») movements − the market is already in the flat, or is preparing for this state;
The closer the green line to the balance area (level 50), the less the market is active.
We remind you that the narrow BollingerBands channel and weak dynamics of RSI lines are always formed before strong speculation (news, opening/closing of trading sessions, etc.). In such periods, TDI signals cannot be trusted.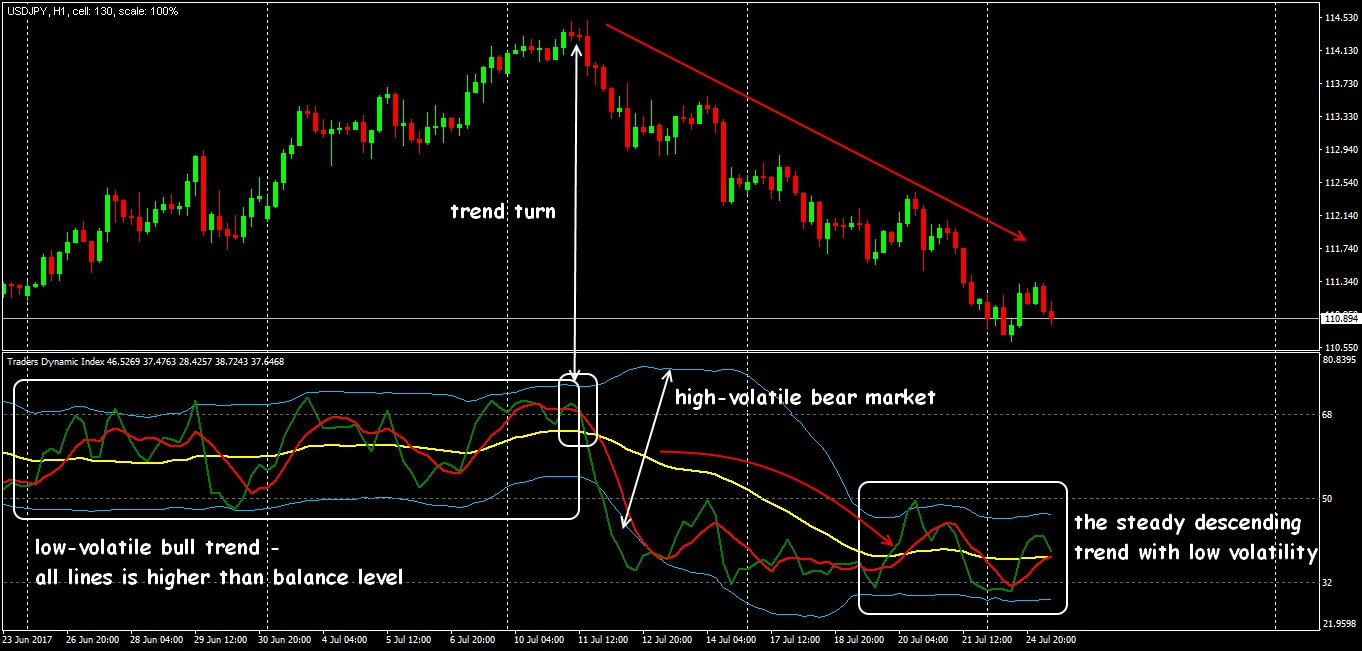 Critical overbought/oversold zones
The key element is considered to be the behavior of the green line:
crossing level 68 from the top down (turn in the overbought zone) − a signal for sale;
crossing level 32 from the bottom up (a turn in the oversold zone) is a signal to buy.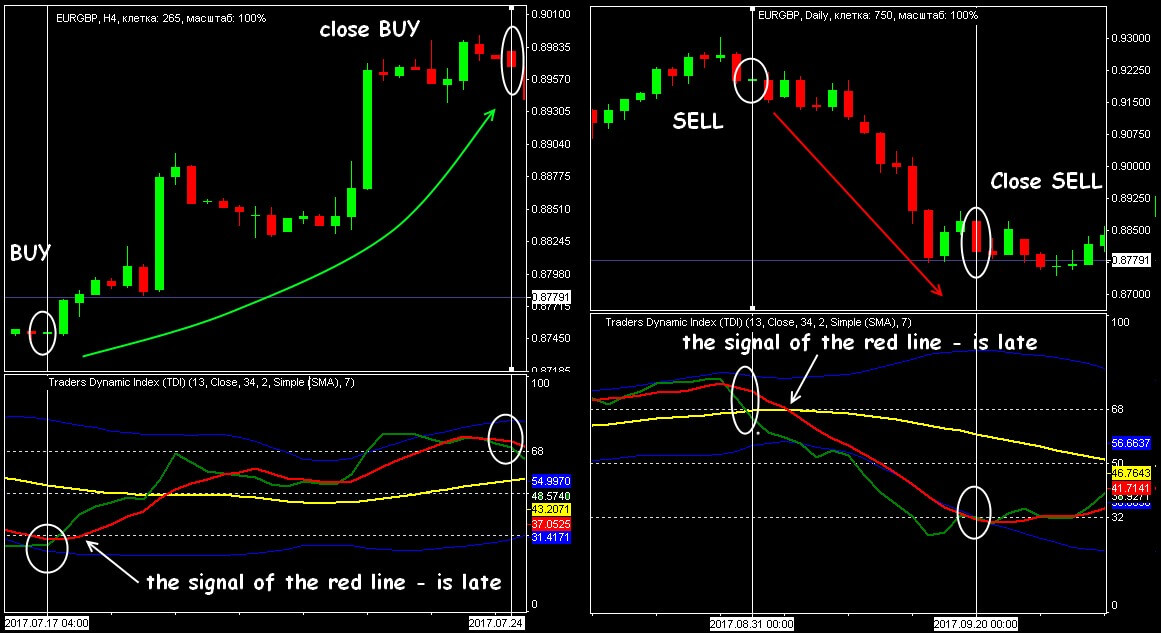 Similarly, the situation of the crossing critical levels with a red or yellow indicator line can be interpreted, but such signals are very late and require mandatory confirmation.