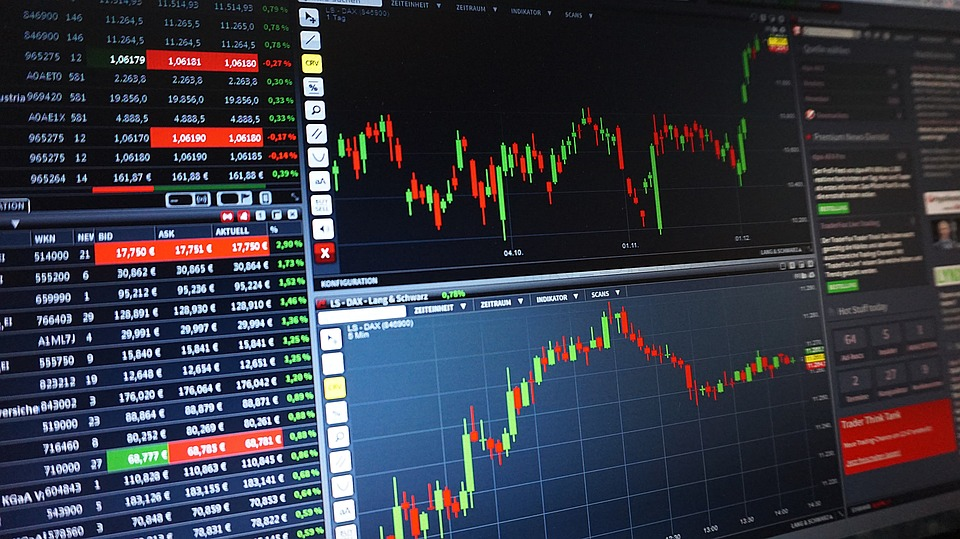 1. What is Intraday trading?
Intraday trading is short-term trading that happens within a business day. It is exactly Intraday trading that many beginner traders go in for. Don't hurry with preferring short-term or mid-term trading though. Start with discovering what is what.
Choosing your trading method is like choosing a way on the road. Make a hasty decision and you'll go in the wrong direction. Ask the locals first.
There's something similar with trading. If a trader chooses an unsuitable trading style, they may waste money and time in vain. Beginners like Intraday a lot on small timeframes, temporary periods, M1 — one minute, or M5 — five minutes. On such timeframes changes happen very quickly, the price goes up and down, which attracts with seemingly easy earnings. But don't hurry with conclusions. Analyze all pros and cons of Intraday trading first, and think how it suits your mentality, daily routine, lifestyle, and only after that delve deeper into learning this or that trading kind.
2. Pros and cons of Intraday trading
Intraday trading is usually conducted on the following timeframes:
M1-M5 — these timeframes may be used for scalping when hundreds of deals happen within a day.
M15-M30 — these timeframes are suitable for more calm trading, maybe 1-3 deals a day.
H1-H4 — these timeframes may give signals for market entry not every day, but movements may be stronger.
Which pros does Intraday trading have?
Highly profitable trading. In the case of successful Intraday trading with having enough experience, you can get a big profit, making money on growth and decline of instruments within a day. Many financial assets have high intra-day volatility and thereby may yield big income.
Strong Intraday movements. Price "flies" up and down many times during a day. Such movements may open numerous spots for entry and potential profit.
Quick experience. Having many deals each day, a trader quickly boosts their skills. With such an amount of deals, trading strategies may be checked for effectiveness pretty quickly.
Lower risks concerning renewal over night and weekend. Broadening of spread may happen at night, caused by the decrease of liquidity. Strong barely predictable movements may emerge. And during weekends, political or force majeure events may happen, which may lead to price gaps on Monday, with the market opening. All this brings extra risks for an account with open positions. With Intraday, all deals are closed within a day and there are no such risks.
Small deposit. The main benefit which attracts new traders is the opportunity to start trading with a small deposit. With Intraday trading, Stop Losses are small, so the initial deposit may be not big as well.
Which cons does Intraday trading have?
Hard to trade, the market moves too rapidly. Strong and rapid movements within a day are hard to analyze and predict. The market picture may change multiple times a day. That's why one has to put much effort to trade effectively.
Trading consumes 6-8 hours a day. Intraday trading implies a professional approach to trading which is hard to combine with another job or business. That's why a trader must fully devote to trading for a few months before expecting the result.
Requires big experience. To trade in a profit with Intraday, you need to have high experience due to market difficulty and multidirectional movements. This may be tough for a beginner.
Hard both mentally and emotionally. As you need to make many deals, experience losses, make decisions quickly, watch at the screen 6-8 hours a day, this may be hard from the psychological point of view.
A portfolio is barely possible. A portfolio of multiple trading systems and instruments will trade more steadily. But with Intraday trading, a portfolio is very hard to set, as a trader can trade no more than 1-2 trading systems within a day.
Intraday trading has many ups and many downs. How to check if short-term trading suits you fine? Test your trading system on Intraday movements in Forex Tester.
3. How to test Intraday strategies?
Intraday testing will help you to feel your trading strategy. You will be able to check how effective it is. Testing daytime trading strategies will save you money, which you won't lose for loss-making trading. The input of time and effort may be a highly lucrative investment.
To start testing in Forex Tester, it's enough to press the "Start Test" button: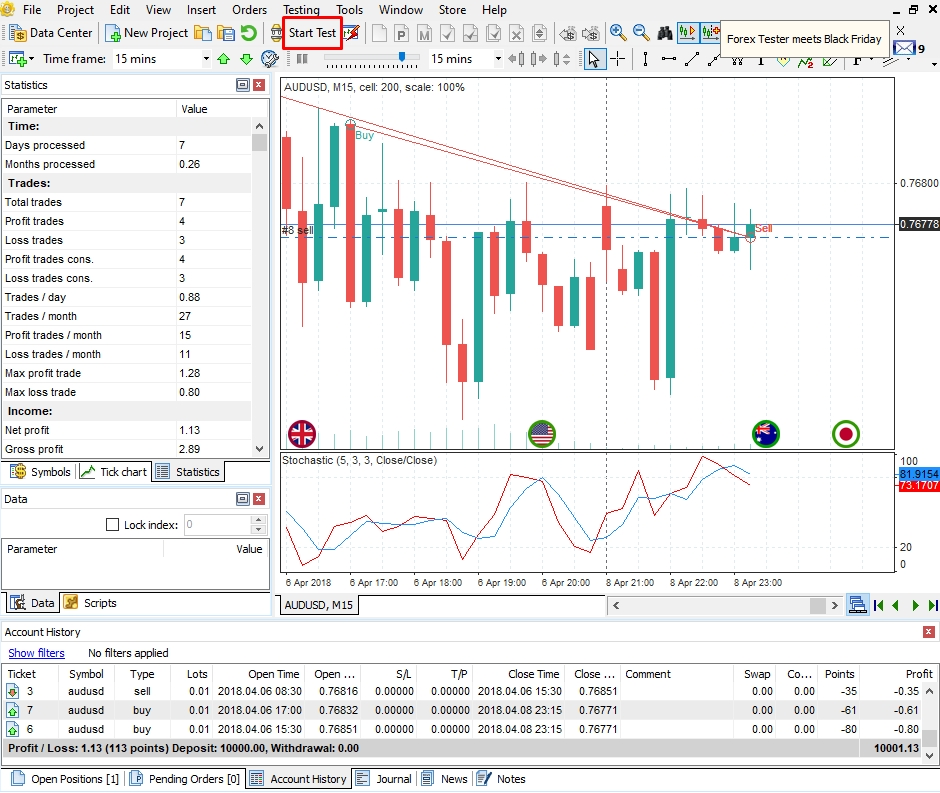 If you need to speed up or slow down the price movement, use the slider: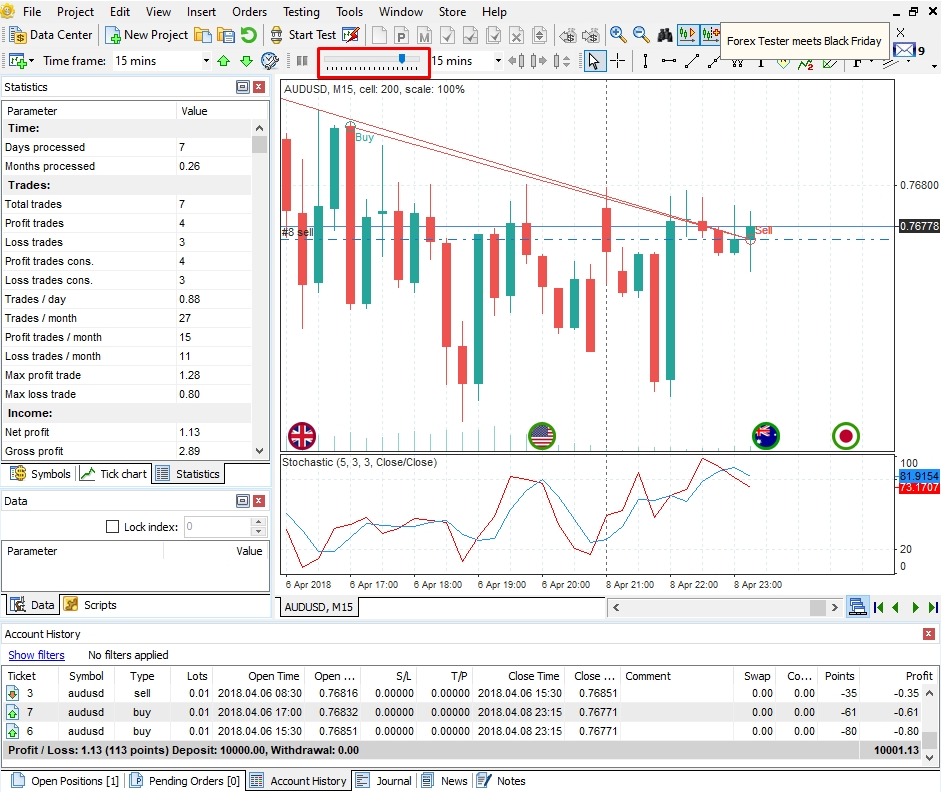 In this way, speeding up the movement in the process of gaining experience, you are able to test a few months within a few hours.
What your Intraday strategy test should be:
Objective test. An objective test is possible only with a trading strategy written in form of an algorithm. You can't trade in one way here, and in another way there. Only this is when you may trust the test.
Long test. A few months long test may be not enough. As the market is constantly changing, it's important to test the trading system on a long time range with different market phases. Test with one-year length may show the objective picture of how effective your trading system is.
Many deals in the test. The common principle is the more deals, the better. This is when the statistics of a trading system will be well checked. 100 deals are the minimum number you need for the initial estimation of the trading system.
4. Conclusions. What to do in practice?
Intraday strategies are profitable and interesting for trading. But this is what you shouldn't forget:
Trading Intraday strategies may be uneasy for a new trader. That's why in the initial stage, it's better to focus on mid-term trading on daytime charts. Such trading doesn't require much time and it may be combined with another job or business.
Intraday strategies must be tested due to sharp and strong movements which may happen during a day. Without experience, gained with testing on a real short-term market, it may be pretty hard.
Only a qualitative test performed on the algorithm of the trading strategy on a long time range and with a big number of deals will show if your strategy works or not.
Want to try it yourself? Download the free demo.
Want to dive into the full testing possibilities right away? Buy Forex Tester here.