Parameters and settings
Let's look at it in detail:
Alligator is a classical example of trade signals on a breakthrough or a turn from borders of range and power levels.
The following states are possible:
«The Alligator sleeps»
All lines move horizontally, are closely bound among themselves and the price fluctuates in the narrow range around red.
There are no trade signals.
The longer the flat period, the more «hungry» will wake up the Alligator: the price throw will be stronger and a new trend will be longer.
«The Alligator yawns»
The fastest AlligatorsLips (green) reacts ahead to activity of the market – in the direction of a price impulse.
Crossing it by the price is considered the advancing signal, but you shouldn't open the transaction.
Gradually lines are developed in a necessary order, the distance between them increases (the period of «hunting» opens).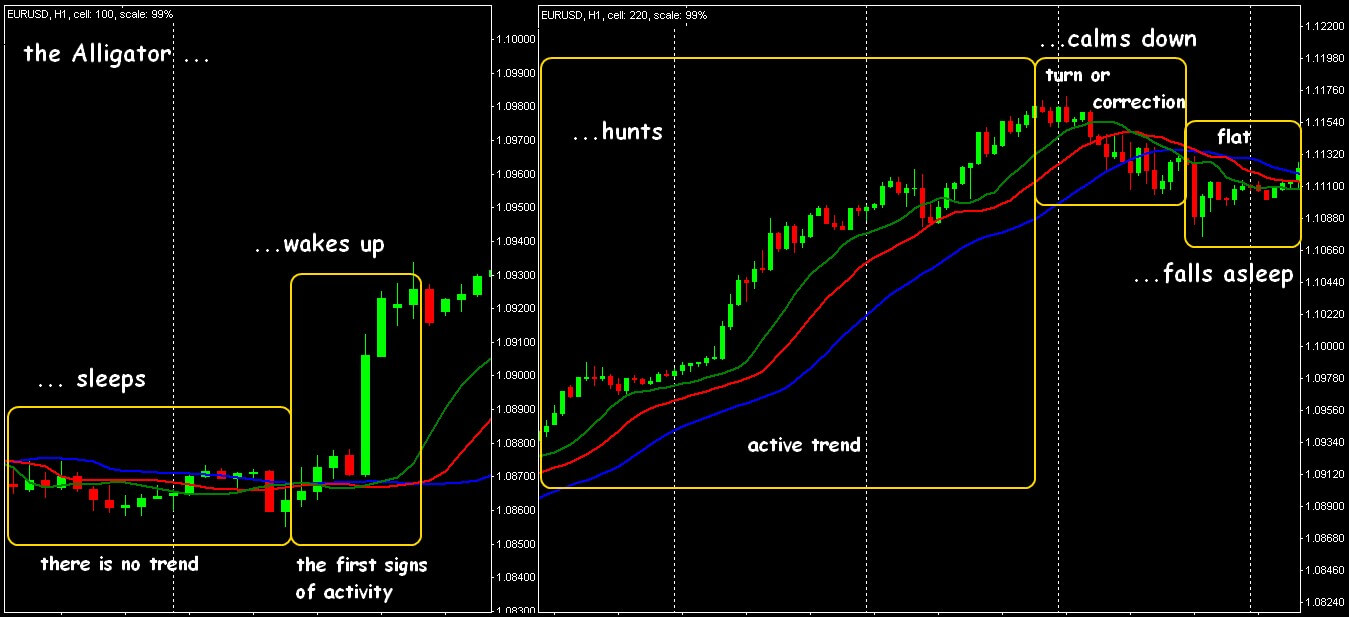 «The Alligator opens a mouth»
If the interest of the participants of the market doesn't weaken, then red AlligatorsTeeth begins to react after green, and the slow blue AlligatorsJaw line always develops the last.
«The Alligator falls asleep»
The return intersection of lines (The Alligator loses interest in «food») before a turn or consolidation is considered the moment of the closing of positions.
For a turn, the lines have to be crossed consistently in a strict order: green-red-blue, their relative positioning remains in the period of a trend.
On a turn or transition in flat there is the reverse crossing of lines, but it is obligatory – according to the same scheme.
The result?
The moment of crossing by the price of all three lines will be a strong signal for an entrance to the market; the transaction on kickback from AlligatorsTeeth looks riskier.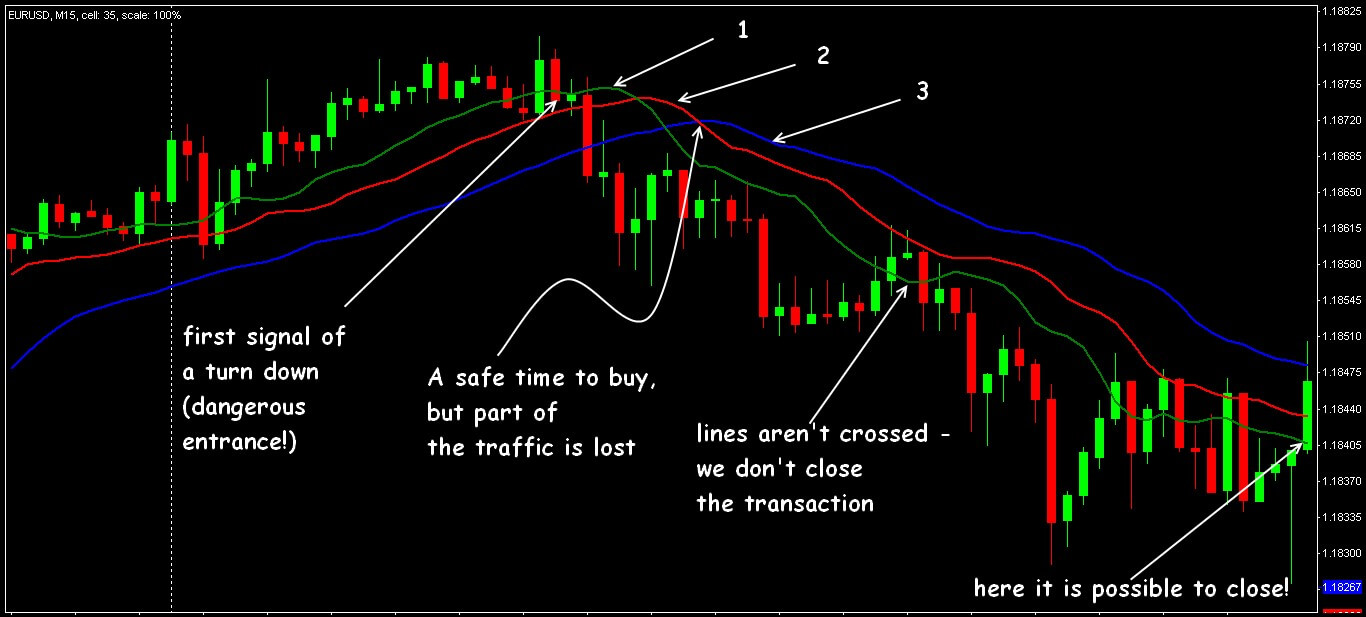 For purchase:
the price punches the key line from below up and is closed above a point of intersection.
Lines have to be directed to the north and be built accurately in order AlligatorsLips < AlligatorsTeeth < AlligatorsJaw (from below up).
While the price moves higher than green line the trend is bull.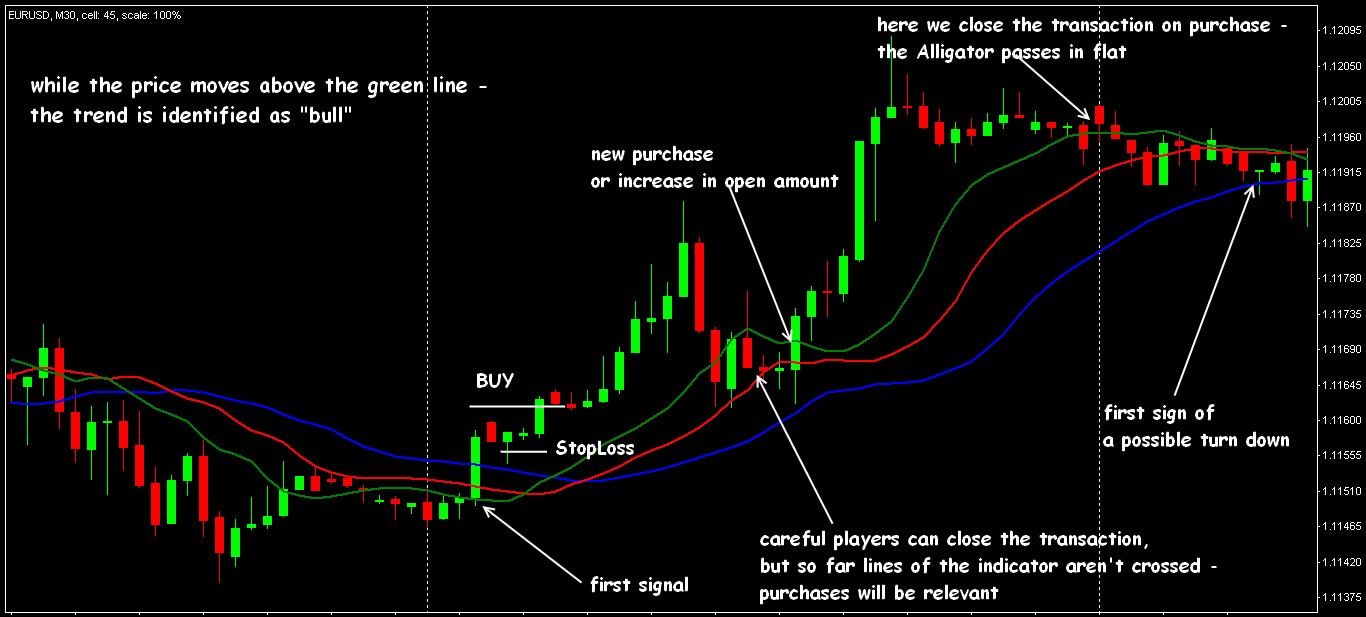 For sale:
the price punches the key line from top to down and is closed below a point of intersection.
Lines have to look to the south and be built in order AlligatorsJaw < AlligatorsTeeth < AlligatorsLips (from top to down).
While the price moves under the green line the trend is descending.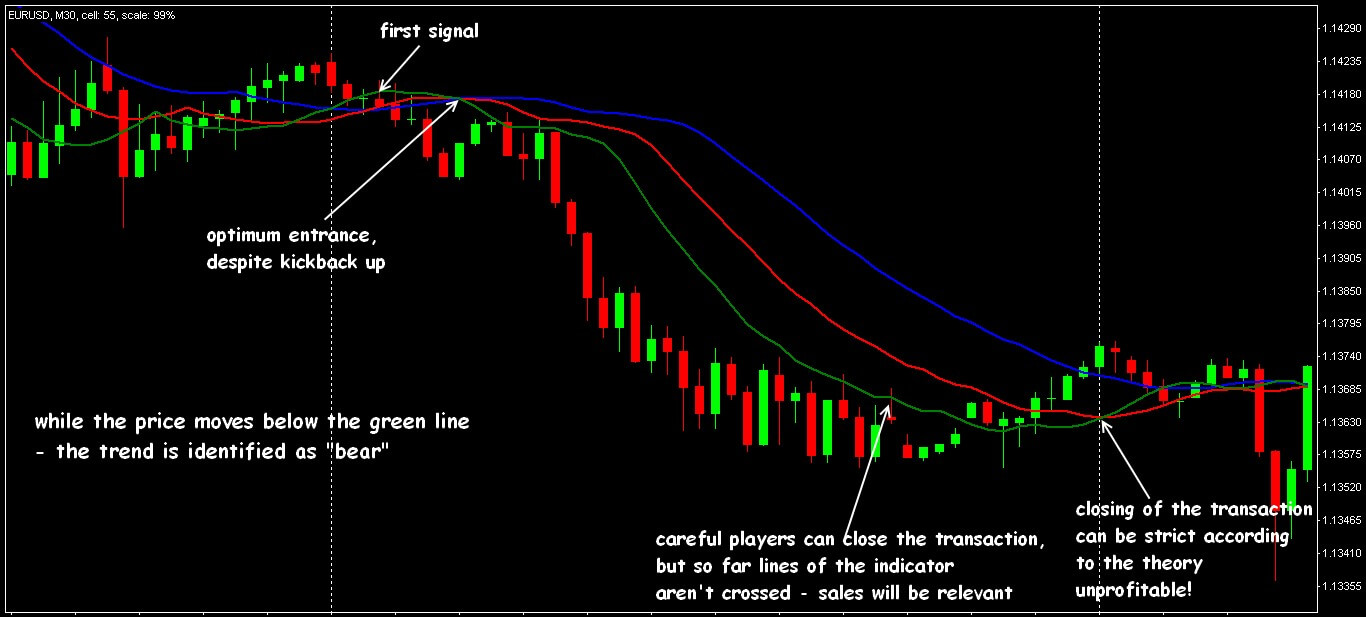 The range of volatility is defined by distance from green to the blue line, and the tilt angle allows to estimate force of a new trend.