Use in trade strategies
The FATL indicator is used in large players' trading technologies, and at least a medium-term forecast is important for them.
Indeed, AT&CF system absolutely does not care what kind of asset to trade, it perceives everything as a digital array, adapts optimally to the current market, is never late, does not depend on the broker and trading conditions.
AT&CF does not give any recommendations on money management, it's just a set of technical tools. Therefore, let us recall once again: we consider only conservative intermediate-term trade with a low level of risk.
Among author's trading schemes, strong reversal signals (S7 and L7) are considered absolutely trendy.
Entry against the current bull trend (sale):
strong downward breakdown of SATL line by FATL line.
sell at the maximum of FATL indicator after the first downward trend adjustment upwards.
The deal is opened at the opening price or higher.
Entry against the current downtrend (purchase):
strong breakdown of the SATL line by FATL from the bottom up;
we buy at the minimum of the FATL indicator after the adjustment of the upward trend downward.
The deal is opened at the opening price or lower.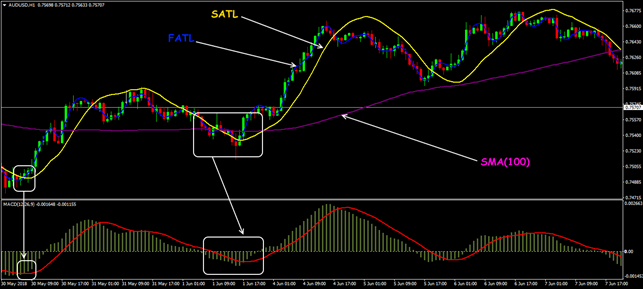 From personal experience: no matter how others convince you not to use adaptive indicators together with classical ones − do not believe it. It is the symbiosis of such methods that gives fairly stable results (see Using Indicators).