Test 1
The first test on all currency pairs was made with the author's parameters. Unfortunately, two of five pairs basically "drain" the account, moreover, quickly enough, the author-favoured aussie showed the negative result as well with the low number of deals. See the results and balance of the most "failed" pairs on the screenshot below.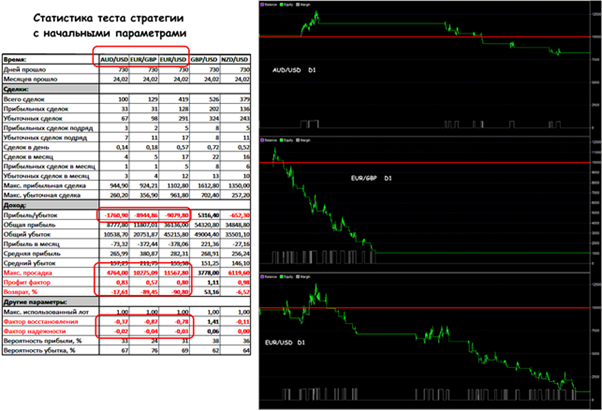 The low number of deals on the AUD/USD and EUR/GBP is surprising, meanwhile, the proportion is obviously not on the favour of the profitable ones. The risk is minimal, there are no more than 2 lots in the work simultaneously. The profit-factor and sustainability rate are below optimal even for the GBP/USD — the only currency pair, which finished the test in a profit.
Practically for the whole test duration, the pound/dollar was in a profit, which, as a whole, is strange for such a volatile asset. There are almost no false entries. Obviously, the optimal trading parameters for the given pair provided precise "grip" with the trend, and all speculative moments were ignored by the strategy. Someone may consider 50% of profit for two years as little, but it is actually a normal result for a stable and mid-term strategy with minimal risk.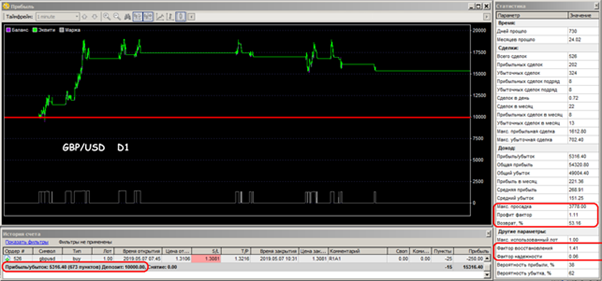 The result of NZD/USD may be considered quite good, though the midday volatility of this asset is significantly lower. The pair was remaining above the balance for almost the whole test and failed only on speculations of the last two months. The statistic indicators are weak, but it may have a chance on minor periods.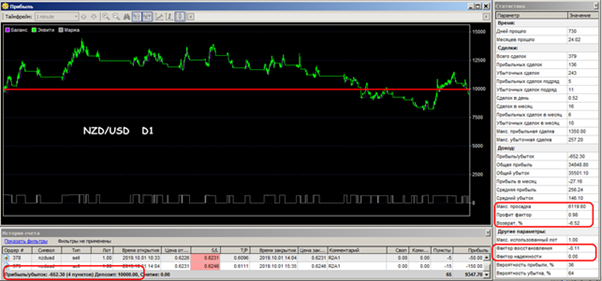 The result? Score 4:1 in favour of loss will hardly attract enthusiasts to this methodology. Stable loss comes also both on trend areas and during the flat. The statistic indicators are very weak, but we shall try to experiment with the two most successful assets.