How we made Forex training even more easier for you
1. One mode instead of two
In Forex Tester 2 trading simulator users usually required some extra time in order to understand the purpose of the "History" and "Testing" modes. If you also had a hard time comprehending what those modes were all about, you can forget about them once and for all, because in Forex Tester 3 they will be merged into one simple mode for simplifying and accelerating your testing activities.

2. Automated ticks generation
In Forex Tester 2, a trader had to face several inconveniences in order to open a new project:
Switch to "History mode"
Regenerate the ticks
Make sure that the data periods are the same in both data and tick windows
Switch to "Testing mode"
Start the Test
Save the Project
All these issues are solved in Forex Tester 3 - you just need to open a new project using a special button. The above-mentioned inconveniences will be covered by our trading simulator automatically so you do not have to worry about them.
In Forex Tester 3, all test settings including the list of currencies, time shift, initial deposit, currency settings and data range will be covered within a project.

3. Keep all testing settings in the projects
- All the testing settings, including list of currencies, time shift, initial deposit, currency settings and the range of data can be altered and saved in projects.
- Easy switching between the projects.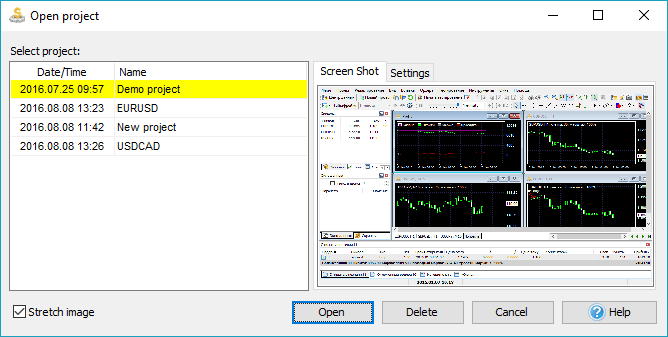 - No need to re-generate the ticks and remember that you have to generate them for some currency pairs.
- All settings of Forex trading simulator will be restored and ticks will be generated automatically when you open the project.
4. Downloading data for multiple pairs at once
Imagine the following situation: you need to download the free data for the last 20 years on 18 symbols (16 currency pairs, gold and silver quotes). In Forex Tester 2 you had to start downloading 1 currency pair at a time, and then return to some of your regular things (you probably won't sit during the next 20 minutes in front of your monitor, staring at how the progress bar advances).
Suppose that, after 30 minutes you recall that you were downloading the data. You open your Forex Tester 2 once again and keep downloading the data on the next symbol. An hour later, you remember that you need to download the third currency pair, etc. Thus, data download can easily take up the entire day or even several days.
The downloading process in Forex Tester 3 is totally different: it has become much easier and less time consuming. Put it to downloading all of your currency pairs and in a few hours, the process is over.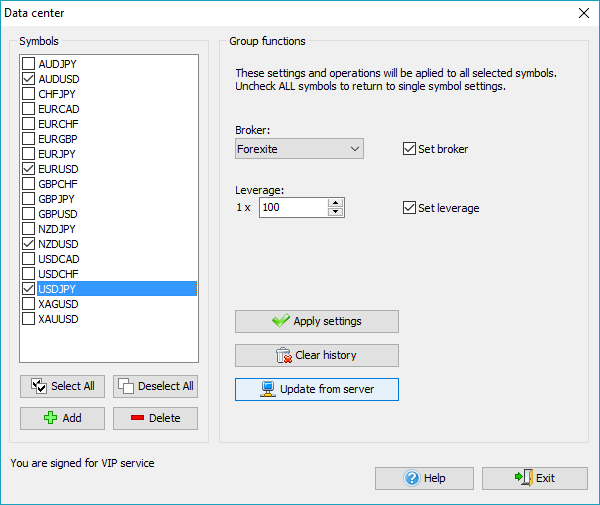 5. Save time while downloading and processing data
The download process in Forex Tester 3 has become much faster. In this version, the data may be downloaded into multiple streams instead of one, as it was in the previous version.
6. Saving the profile
Before you start the test, it is often necessary to keep all of your current charts just as they are at that moment. Forex Tester 2 had Projects and Templates features only for organizing your workspace. In Forex Tester 3 one more valuable feature was added to them: the Save / Load Desktop function, which preserves the desktop and allows for structuring your charts in the desired position.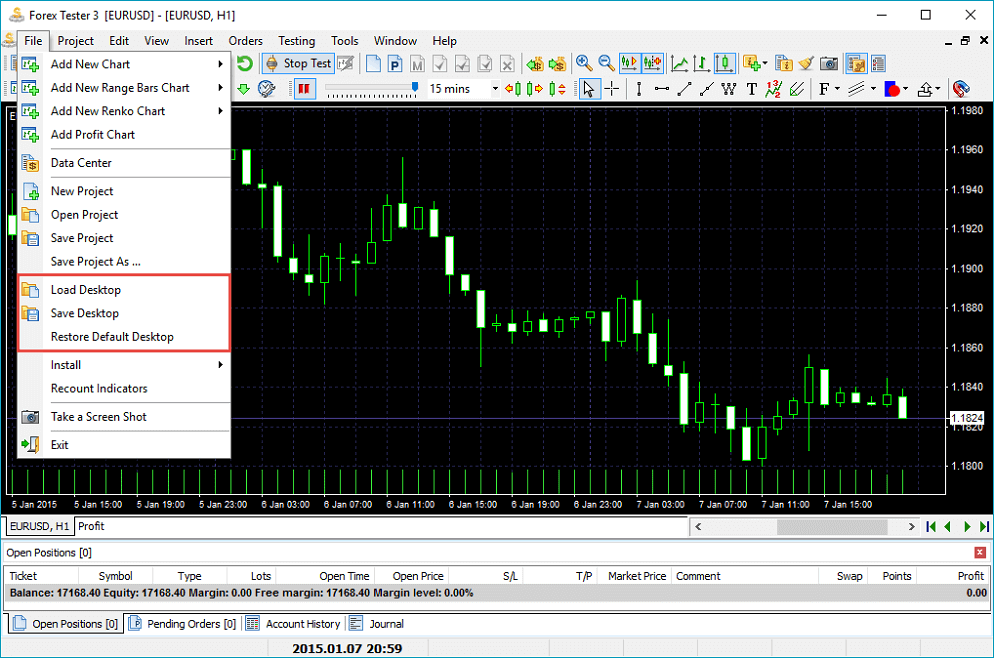 7. Smart Profit Chart for analyzing the strategy's performance
In Forex Tester 3 trading simulator, the profit chart functions like any other chart. Equity line is now represented in the convenient form of bars, so you can see every tiny change of your deposit.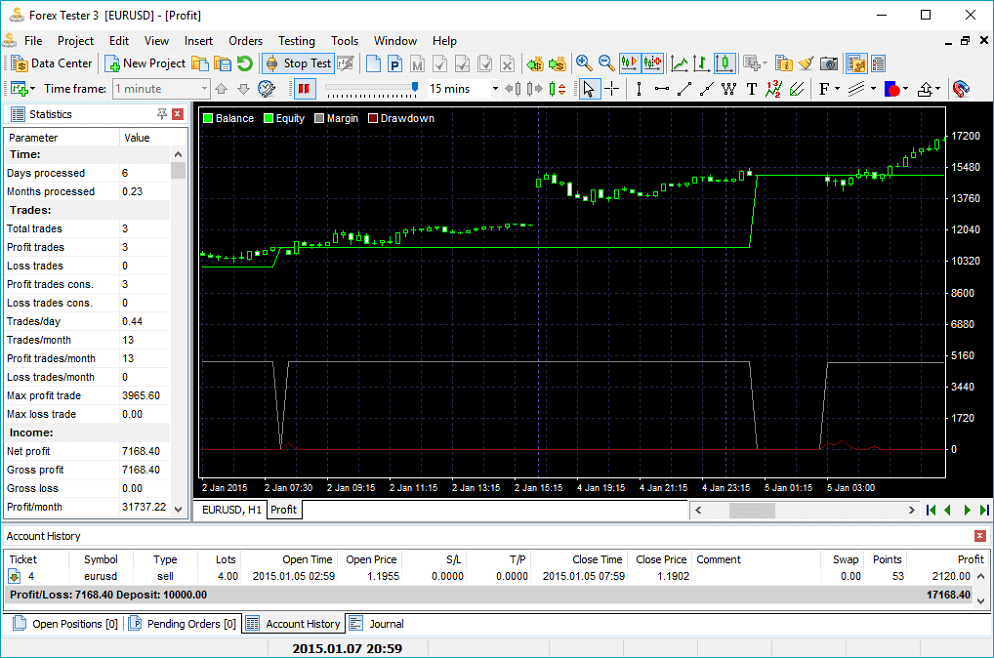 All drawing tools and templates have become applicable to the Profit chart as well.
You can open any number of profit charts, rather than just one, as it was in Forex Tester 2.
For greater convenience use the crosshair.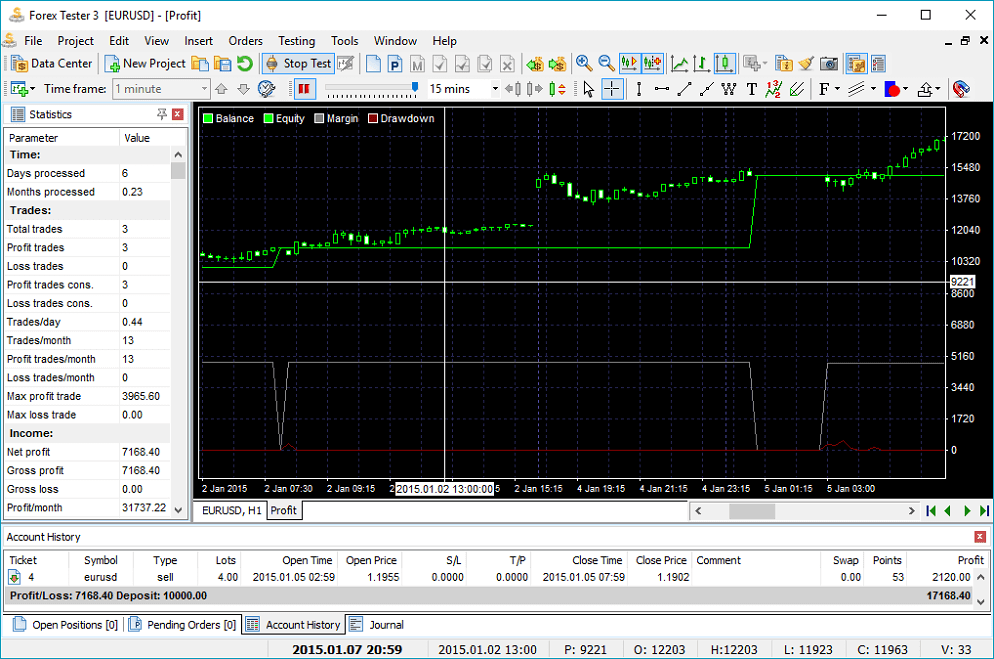 8. Automated time shift for all of the project's currency pairs
In Forex Tester 2, traders could change the time shift only for each individual currency. In Forex Tester 3, time shift is set in the projects themselves, significantly accelerating the process of preparation for the test.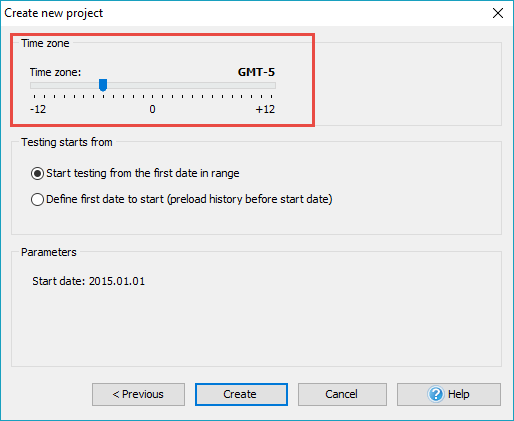 9. Built-in EAs
Do not know what to start with your Forex training?
Automated strategies provide traders with outstanding possibilities to save tremendous time and efforts. Instead of testing a trading system manually, one can simply click several buttons and switch to another task. A few hours later, you can return to the test and analyze the results – all the routine and boring jobs will be done by the software. In Forex Tester 2, we gave away just 1 EA, whereas Forex Tester 3 will contain 3 of the most common and useful trading systems for automated testing. In the future, we will add more EAs that will satisfy various testing needs.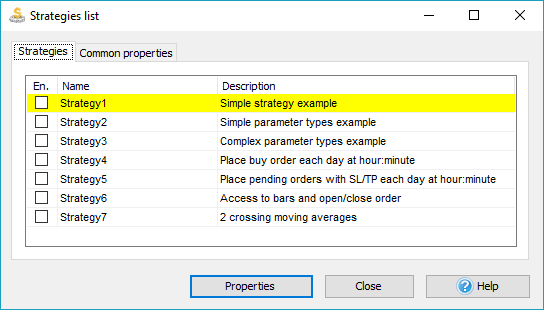 10. Drag & drop stop loss, take profit and pending orders
Now you can drag and drop the pending order, stop loss and take profit lines directly on the chart in order to change their values instantly. This feature speeds up and simplifies the use of the software even more.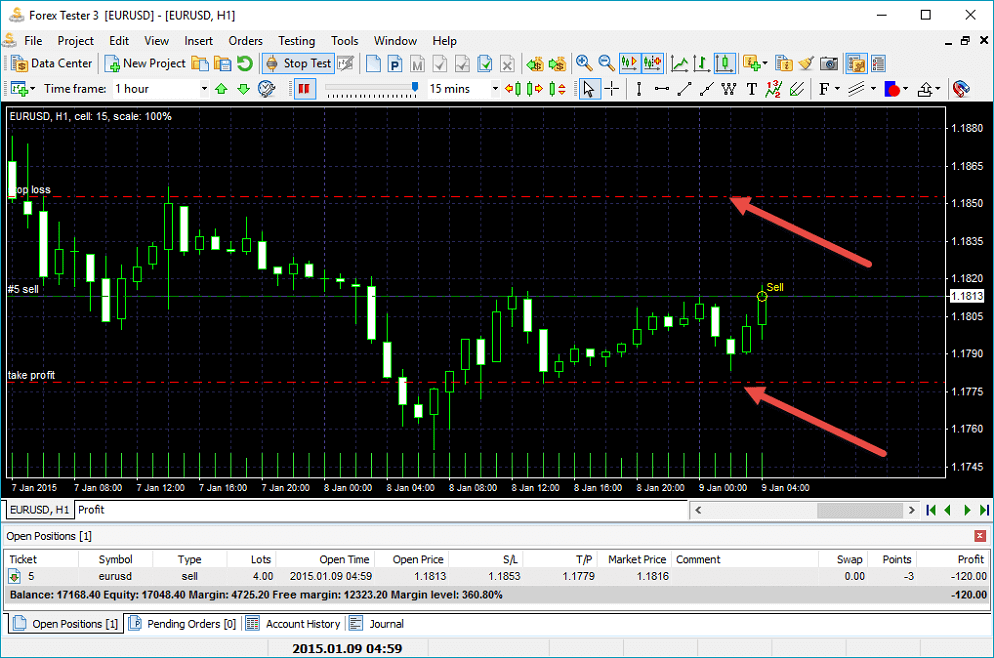 11. Multiple monitors support
Traders who work with multiple monitors often complained about the impossibility of placing each individual chart on its own individual screen. This important issue has been successfully resolved in Forex Tester 3 trading simulator. Now you can freely move any number of windows to an unlimited number of monitors.
Navigate to the "Window -> Cascade" menu and simply drag and drop the necessary windows to the required locations.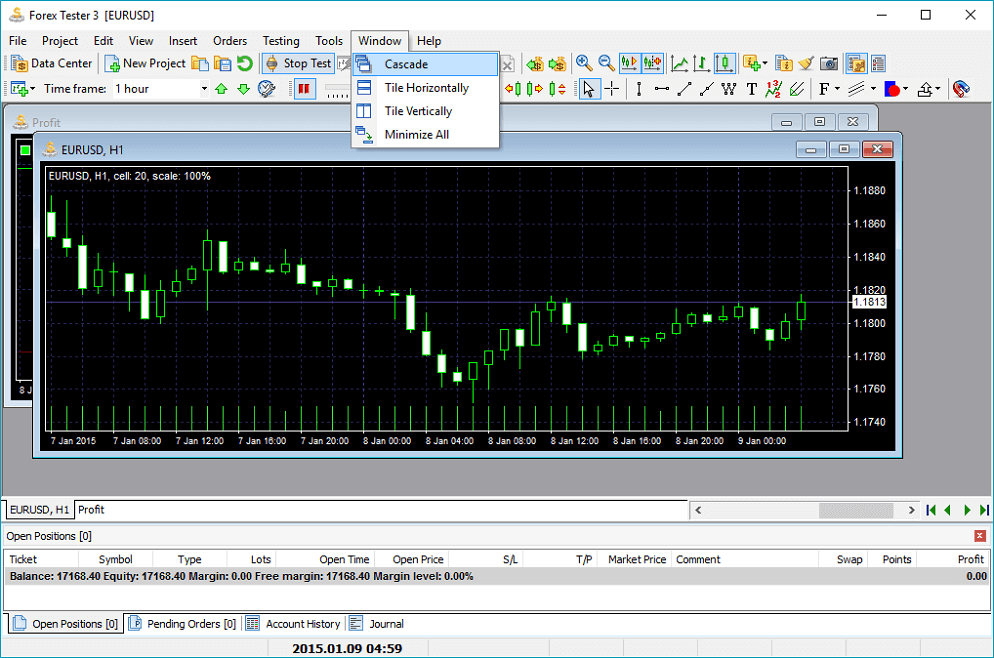 12. New, more convenient registration scheme
In Forex Tester 2, a registration key was attached to your computer's Hardware ID. In case your Hardware ID became changed (for instance, when you reinstall the operating system), you had to ask a new key and wait for our system to generate it. In Forex Tester 3, you will be provided with a master key, so the key requesting process will occur automatically.
13. Renko bars
One of the most frequently asked questions related to Forex Tester's indicators was the question of the Renko bars implementation. We are glad to announce that this tool will be available in Forex Tester 3, and you will be able to expand the range of tools for the analysis and backtesting to even greater limits.
14. Organize your workspace according to your preferences
If you feel you need to arrange the workspace in a different way, in Forex Tester 3 trading simulator you can feel free to:
Detach any panel or chart window.
Drag it anywhere you want.
Merge it with other panels.
15. It shows real tick volumes
Our users struggled with the data that contained a large number of price changes within a particular bar. This happened when you tried to test historical data on indexes or if you have downloaded the 1-hour Forex data form other resources. In these two cases, Forex Tester 2 wasn't able to provide you with adequate volumes. In Forex Tester 3, this problem has been successfully resolved.
16. Customizable hot keys
Have you ever wanted to assign one of the most common actions that you used regularly to some hot key combination? In Forex Tester 3, you do have such an opportunity. It is impossible for the developers to forecast every single action you are about to take because this action will vary depending on the user's trading style and strategy. Save your valuable time and efforts with customizable hot keys on our trading simulator. Therefore, you can spend the saved time for Forex trading training. Hot keys can be adjusted via "Tools → Options → Hot keys" menu.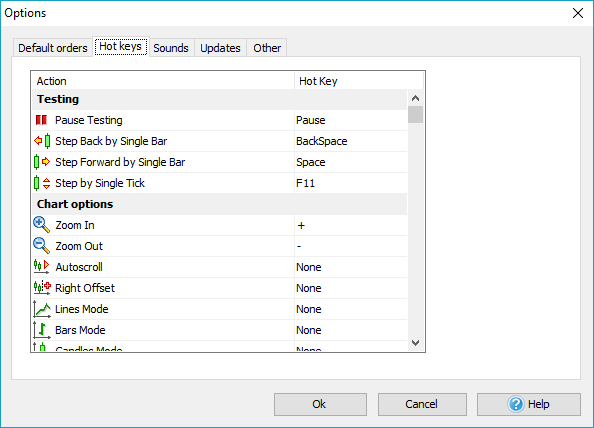 17. New graphical elements
In addition, we added some new graphical tools that our users asked for on a regular basis:
Signs
Thumb Up
Thumb Down
Arrow Up
Arrow Down
Check Sign
Stop Sign
Left Price Label
Right Price Label
Price Label
Linear Regression Channel
18. 7 important user interface changes
Fast timeframe switching buttons were added to the toolbar
Current indicator value will be highlighted on mouse hover with a big point on the indicator line
Added the leverage input in the "Symbol settings" menu
You can fix the bar number to see its values in the "Data window", so it will not be affected by the mouse movement
Fixed chart scale of 1 pixel x 1 point in the "Chart settings" dialog
The "Maximum drawdown" value will be saved and restored with the project settings
Big system fonts support
19. Important bugs that were fixed in Forex Tester 3
Unnecessary jumping to the start / end of the chart after switching to another time frame.
Let's assume that you uploaded the data and generated the ticks from Oct 1, 2005 till Oct 1, 2009. For example, you were examining the chart on Nov 11, 2007 and a H4 time frame. Afterwards you switched the chart to any other time frame (say on H1). You will see the last candlesticks of your data period that are from Oct 1, 2009 and not the necessary Nov 11, 2007.
Necessity to generate ticks for the same currency pairs in order to create a new project.
You downloaded the data on EURUSD and generated the ticks for this currency pair. If you decide to create a new project for the same pair then you have to generate the ticks anew.
Absence of the vertical chart scroll
Absence of the comments within order tab and after the history export
Comments are perfect tools that help you to recall why you opened or modified the order. It might be obvious now but a few trades later, you will not be able to refresh the reasons for your trading behavior. In Forex Tester 3, you will have access to your comments in all of your order tabs.
Duplication of graphical elements
In Forex Tester 2, when you created several graphical elements with different properties (such as color, border size and so on) and then tried to duplicate any element, the properties of the last created object were applied to this new element.
Example.
You create an orange rectangle
You create a blue rectangle
You duplicate the first orange rectangle but the color and border of the duplicated shape have the properties of the last one (in our case, the blue rectangle)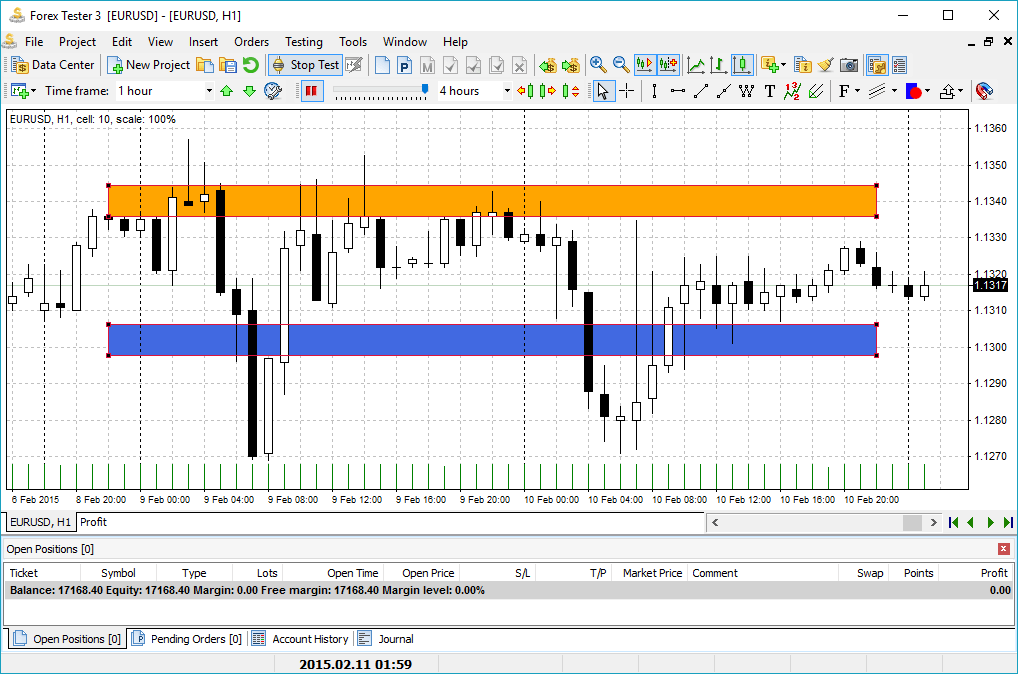 In Forex Tester 3 trading simulator, if you need to draw exactly the same graphical element, you can just right click on it and duplicate it in a few clicks. This should save your time significantly.