How Forex Trading Simulator can speed up or slow down the Forex market
Every trader knows how boring it is to trade on a demo or live accounts. Even though you feel a lot of emotions while trading on a live account and risking your real money, you still need to wait for a long time waiting for your order to close.
Most of the time nothing special happens on the market. According to the statistics, 70-75% of the entire trading time results into a flat, non-trendy, low volatile movements.
But what if you could open the trade and then to see the outcome of it just in a few seconds pressing several times on the "Space" button? Wouldn't it be amazing to make an assumption and then immediately check if you were right or not? Other trading software are not able to provide you with such a feature. The only piece of software that can do this is the backtesting software. With its help you can skip hours, days, weeks, months in seconds depending on the time frame you launch the testing process.
People sometimes say that there is a huge difference between the real market conditions and the historical data that is used in the Forex market simulator. They say that the current data is much more valuable and their interest is attached to today's prices.
Those who do not want to learn the history of the trading will never understand the potential future. As you heard multiple times, "the history repeats itself". Sure enough, the market never shows 100% similar conditions. You can compare the models and patterns to people. Every human being is unique, however, all the people tend to make alike decisions and to act in a particular way. The same is true for the Forex patterns. Today's pattern is not the same as the one that happened, let's say 2 years ago, but they still have plenty of similarities.
In Forex Tester, one can totally control the speed of testing with the help of the special scroll bar. You can make the market move insanely quickly or very slowly – that depends on your current needs and on the type of your strategy.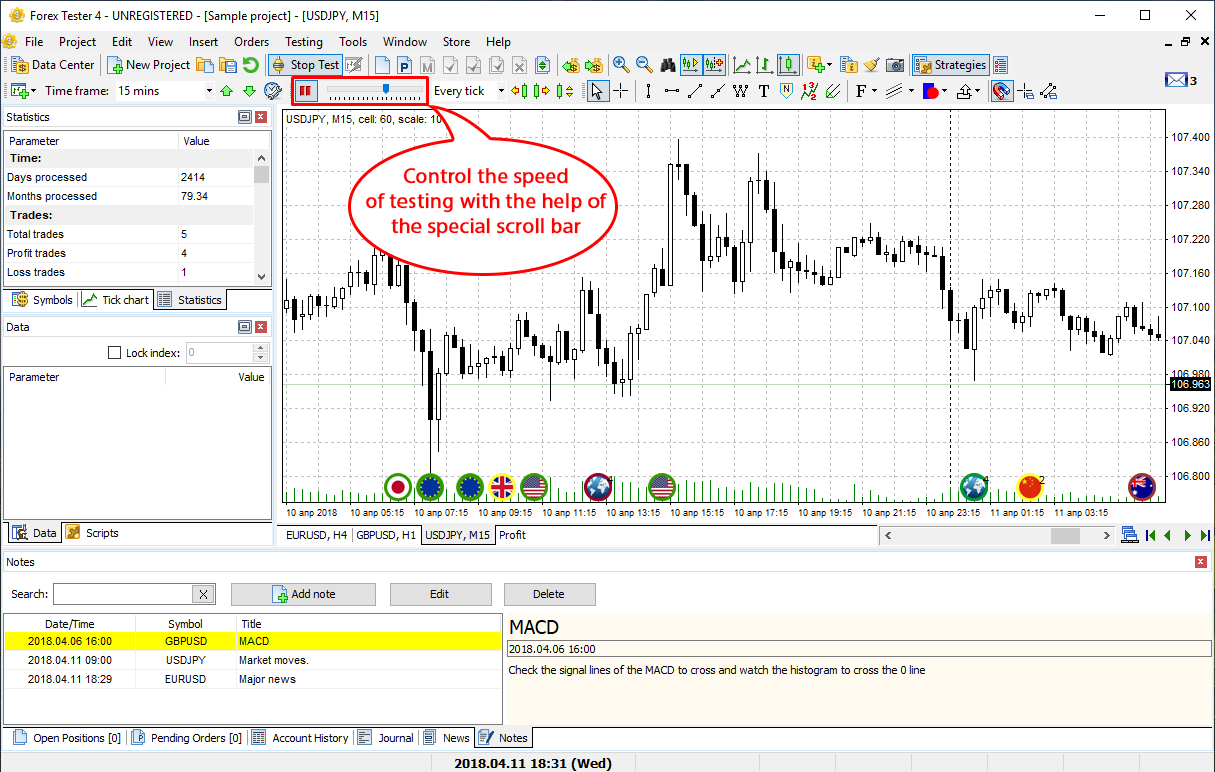 You can adjust the price movement at your will and your current needs. One can go through the entire week in a couple of seconds or to make the market move very slowly so you would be able to make a trading decision. No matter what your requirements are, you can use our backtesting platform and establish the convenient conditions for your strategy testing.