Trade signals of the indicator
The logic of Standard Deviation suggests that the stronger is the trend, the greater is the indicator value, if the market is inactive, then the indicator should move near zero.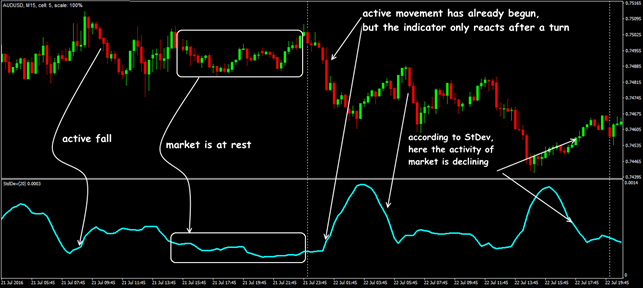 In the moment of activity, the line rises regardless of whether bull or bear is the underlying trend − this indicates opening of positions by market participants.
The market «crowd» sees that the asset has become much cheaper (or more expensive) of its fair value and begins to buy (or sell) it.
At the time of a new trend formation, the indicator line breaks through its extremums and the faster it grows, the stronger the subsequent price movement will be. The rollback of the line from the maximum values means a decline in volatility (market activity is declining).
The small values of the indicator StDev characterize the market as passive (flat), that is, it is necessary to wait for a breakthrough in any direction. This is understandable − prices are beginning to seek a moving average, it means that the market either begins consolidation, or is preparing a turn.
Both options create additional risks, so it's better to fix the positions, or at least tighten Stop Loss closer to the current price.
What result do we have?
The search for trends using such simple statistics is a rather unreliable way to estimate volatility, therefore the Standard Deviation indicator is most often used to find additional entry points in the direction of a stable trend. In this case, the trend, as a rule, is tested by more classical methods.