Pattern implementation examples
Ascending (Bullish) Triangle
The model consists of a horizontal resistance level (on top) and sequentially 'growing' minimums.
It is expected that a bullish trend already exists at the market, but the buyers can't overcome the local resistance for now (usually, a zone of failed test is visible). The pattern is taken as a consolidation model before the following rise.
The upper border is penetrated the most often — above it pending orders for buy are set.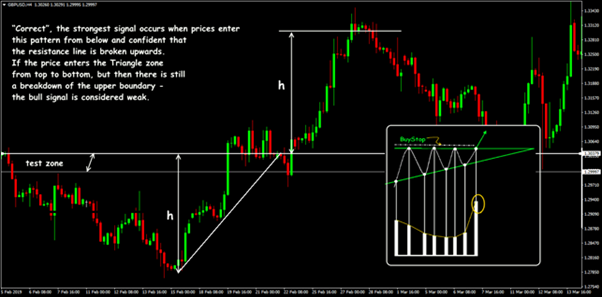 There are situations when a upgoing Triangle is formed as an adjustment on a downward trend. Then a middle signal for sale emerges after the price entry into the pattern zone at the top and a breakthrough downwards the inclined border.
Descending (bearish) Triangle
Lower border of the figure — horizontal zone (at the first approach), upper border — sequentially 'falling' maximums.
The bearish trend is present at the market, but sellers can't break through its zone of support and pass further. In expectation of the penetration below the lower border, pending sale orders are set.
If the price enters the pattern from down up, but as a result it goes down anyway — the signal for sale is considered weak.
If the downward Triangle is formed on a strong bullish trend and the price enters the zone of the model from down up, then a bullish penetration of the inclined border is more likely — the middle buy signal.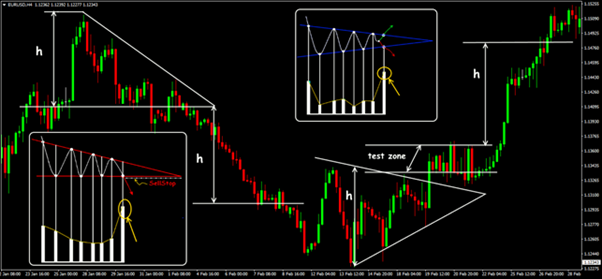 Convergent (symmetrical) Triangle
It is two crossing (theoretically, of course) lines of support/resistance.
Fading amplitude of fluctuations inside such pattern may lead to the penetration in any direction: this is an ordinary sequence of trent areas and flat periods (see Using Indicators).
The model is considered neutral, this means that usually two pending orders are placed — BuyStop (above the upper border) and SellStop (under the lower border).
The statistic shows that even on the upper trend the probability for a penetration of the entry directions into the pattern are much higher.
Divergent Triangle
The model seems inverted to a symmetrical Triangle, borders must be located at an angle equal to the horizon.
The pattern is being formed for rather long, local max/min, not reaching the borders, are possible inside the zone.
Fundamentally, it means the state of long uncertainty after a strong trend, when swing-traders start rocking the price, and then the model gradually expands at the cost of opening new positions.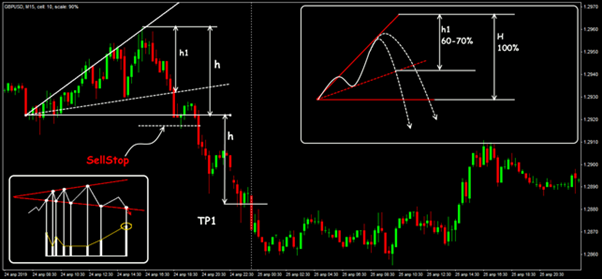 What this means is that trading under such a Triangle is dangerous, a confident signal for the enter emerges only with a true penetration and consolidation behind the borders of the figure.
A small divergent Triangle is better to be skipped at all, a larger one may be traded at the retests of the borders, but private 'fake' penetrations are possible — strong news may well break this model at the moment of the price reaching the border.
It is recommended to combine the target levels with the Fibonacci level from the last movement.