Conclusions and recommendations
We remind you: manual trading during the test was not allowed.
All tests showed a few deals, which is uncharacteristic for the oscillator strategy. It means that the mutual filter of indicators has proven effective. The ratio of transactions in almost all tests is in favor of profitable ones, which indicates high accuracy of entry.
Like all oscillators, Stochastics can freeze for a long time in critical zones, and a lot of false signals will appear on periods up to M30, so the technique is unlikely to be useful to scalpers.
It is necessary to take into account the behavior of the slow oscillator lines. If they have been, for example, in the oversold zone for a long time, and have crossed several times in it, then it is better to open a long position only after the lines not only intersect but also exit it.
The strategy worked well as a medium-term one; in all respects, the most profitable option was AUD/USD on H1, the weakest, as expected, GBP/USD.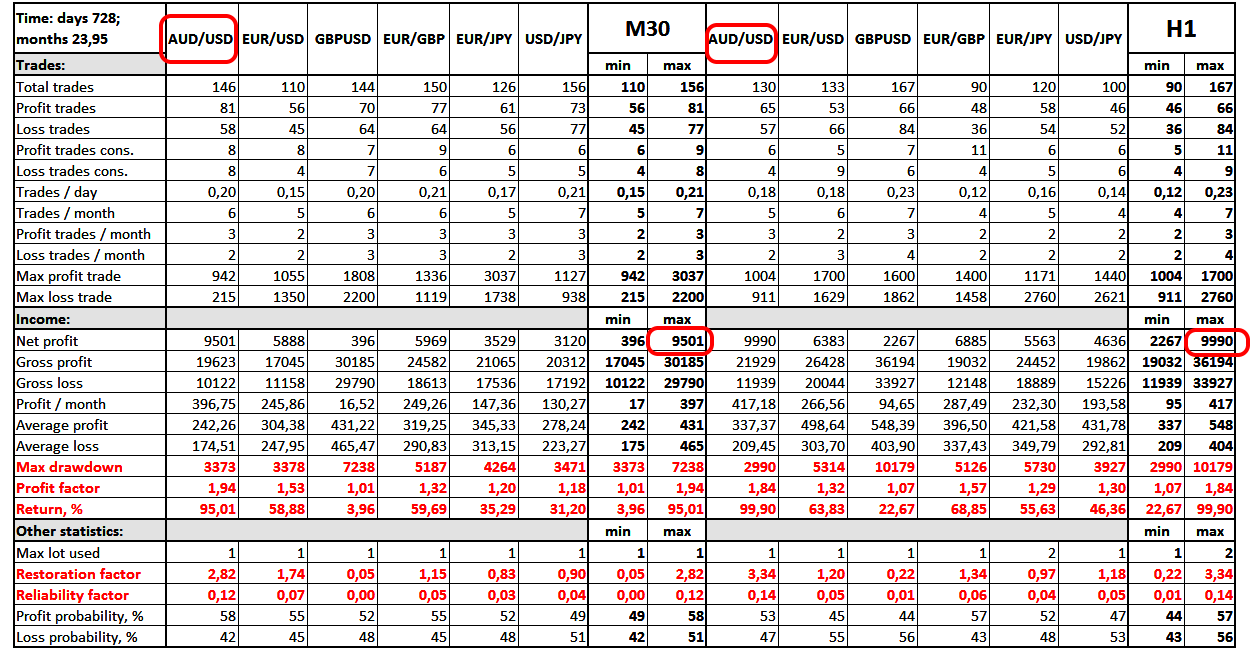 There are no particular restrictions on timeframes and assets, you can even try binary options (expiration time - at least Н4), but extra experiments are not recommended.
There is a modification of the strategy for larger periods: Stochastic (480; 480; 1) evaluates the situation on the weekly, Stochastic (96; 96; 1) - on the daily timeframe.
In this test, as additional risk insurance, besides the stop orders, a reverse method of closing deals was used when a return signal appeared. Consequently, some transactions were closed with a minimum profit, which somewhat reduces the overall result. We offer readers to check the option without reverse by themselves.