What contains shortcut block

Which shortcut block can be
With risk lot calculation.

With fixed Lot.

With StopLoss and TakeProfit in exact price.

With pending orders preset.

With group of orders.

How to add shortcut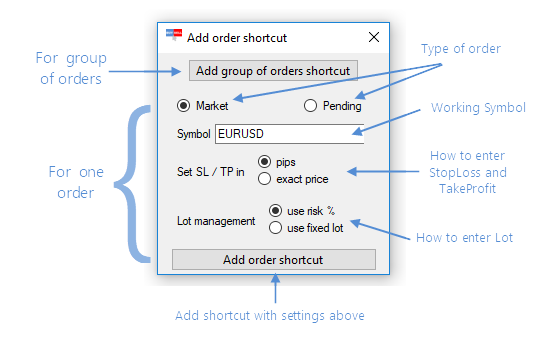 What you can edit in shortcut
Symbol
If you hover mouse upper the symbol, then you can see hint how you can edit the Symbol (with doubleclick)

You can edit Symbol and click on SET CURRENCY button at the right side of shortcut to save.
Also you can use Enter button on the your keyboard to save Symbol.

Risk
Shortcut with risk calculation. You enter risk percent and stop loss.

After that, lot will calculate automatically, and showed preset risk and calculated lot.

Lot

StopLoss or TakeProfit in pips

StopLoss and TakeProfit in exact price
You can enter StopLoss and TakeProfit levels in exact price.
Also you can DoubleClick on the stop level textbox and moves the line on the chart.
Input will show the line price when you moving it on the chart.


When you finished choosing stop level, then you should Delete line from the chart (press Del on your keyboard or choose Delete from context menu of line) or choose Apply changes from the context menu of stop level, that you editing now.

When you enter StopLoss and TakeProfit as exact price, then you can see disabled some action buttons.
Disabled button means, that you can't open order with such stop level (StopLoss and TakeProfit) for current market price (ask or bid).

Group shortcut
For Edit group settings you need click on the EDIT button at the right side of shortcut.

How to delete shortcut
If you want to delete some shortcut, then click on the X button on the left side of shortcut.

Buttons
BUY and SELL for opening market orders.

BLim and SStop for opening Buy Limit and Sell Stop respectively when your Enter Price less than market price

BStop and Slim for opening Buy Stop and Sell Limit respectively when your Enter Price more than market price

OPEN button for opening group of orders and EDIT button for Change settings for group of orders.

Disabled button (like BUY on this screen) that means you can't open order with such stop level (StopLoss and TakeProfit) for current market price (ask or bid).
You can see disabled button when you enter stop levels by exact price only

Additional information you can find on the home page of ForexSpeedUp

If any questions arise, please do not hesitate to contact us at support@fx-metropolis.com