Forex Tester has two working modes: History Mode and Testing Mode. The diagram below shows the relationships between these two modes: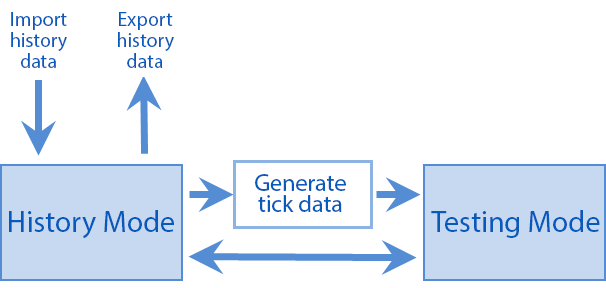 History Mode is designed for the next purposes:
It stores complete historical data for all currency symbols.
In this mode you can work with Data Center, add or delete new currency pairs, adjust their settings.
You can import/export historical quotes to/from database. By default, after installation of the program, you have 14 major currency pairs already preset and one month of history for each of them imported. Such a small amount of history was included into installation for demo purpose and to make an installation package size not very large. You can download a complete history from our server through the Data Center from 01/01/2001 to the current moment after installation.
The next important purpose of History Mode is to prepare data for Testing Mode. You can choose what symbol(s) from database and for what period of time you want to test. For example, you want to test some strategy for EURUSD for period from 2004 to 2006. In this case you need to prepare this data for Testing Mode by generating ticks for this currency for selected period of time.
Lastly, you can use this mode as a static mode to work with charts. You can not place orders and replay history in this mode, but all other functions - to draw on charts and to analyze history - are available.
Testing Mode is designed to emulate a trading terminal to practice and test trading strategies. It allows to:
Replay historical data like in "real time" with the regulated speed. Thus, the trader can see how the market changes, can pause and analyze a current situation or replay some period as many times as he/she needs.
Make trades on historical data, like in a real life, see changes of margin, balance and equity (and other statistical information), make trading decisions.
Test automated strategies.
You can switch between these two modes using this drop-down list:

Note: that each mode has its own desktop (the number of charts and their layout), and, when you switch between these modes, the chart layout will be changed according to the selected mode. Also, some options are available in one mode and not available in another. For example, the Start Test button is available in Testing Mode (because you can start testing only in this mode) and not available in History Mode. The same situation with Data Center. You can import/export/prepare historical data only in History Mode, so these buttons will be grayed in Testing Mode.