Test 2 "Long stop"
Terms: Daily average volatility over the past 3 years on AUD/USD, EUR/USD, GBP/USD — from 50 to 140 points.
We try the option with a fixed stop at the max value level. Take Profit at 100 points and Stop Loss at 60 points provide a small supply of a profit (the profit/loss rate is about 1,5:1), but in this case, we count on a rather rare stop triggering. "Bars to skip" parameter is at 100.
Overall statistics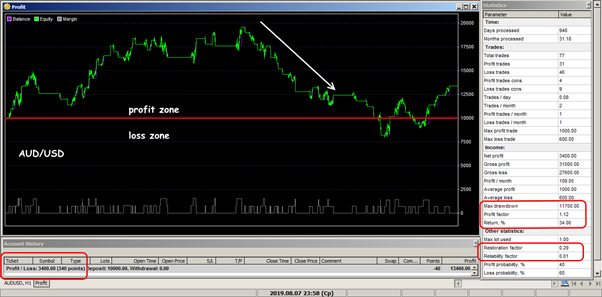 Maximum subsidence relates to the profit zone. The account for the whole test period is in profit, but the result is rather modest. In the period between 15.04.2018 and 01.10.2018, the most of the profit was lost for the fundamental reasons: a series of negative deals occurred because of active speculations, while the price in the flat simply couldn't reach the 100-point profit. The recovering indicators are below normal.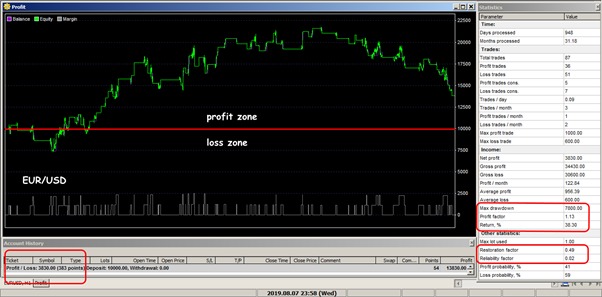 Subsidence at the beginning of the test is insignificant, the maximum subsidence is in the profit zone. The positive result is stable, but the indicators of recovering are weak, the profit factor is below normal. Much of the profit is lost over the past 6 months, mostly because of fake signals on speculations.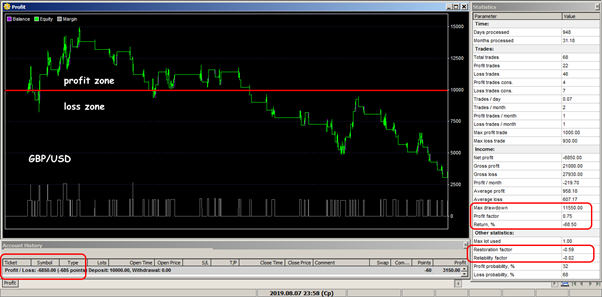 The pound has shown very few signals and the profitable among them are just 30%. The losses are about 70%, all the statistic is negative.
Risk analysis: average load for the deposit is about 2 lots, dangerous mini management tactics are not used.
Result? Despite two positive results, the margin of profit is obviously not enough: the profit factor everywhere is below normal, the recovering indicators are weak.