How to open project easily
[Instructive guide with video]
Before the testing starts, you need to prepare historical data for it. By clicking New Project button, you will be able to select the symbols that you want to test, the time period for testing, initial deposit in USD etc.
For example, you may have downloaded data for 10 currency pairs but want to test only 2 of them.
You can select these two pairs when creating a new project and test only these pairs for the period from 2012 till 2016 year, for example.
Please note that you can use real historical tick data during testing (they are available for subscribers of VIP data service).
You can start a new project by clicking New Project button or via File → New Project menu in the program:

In appeared Create new project window you can set the name of the project (in Project name: field) and also the initial deposit in USD.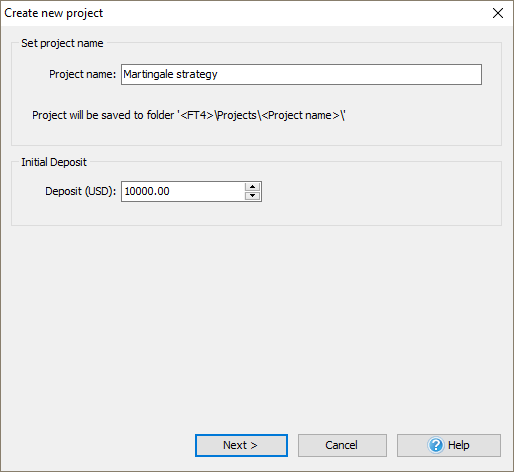 After this, please click Next button. The following window will be opened: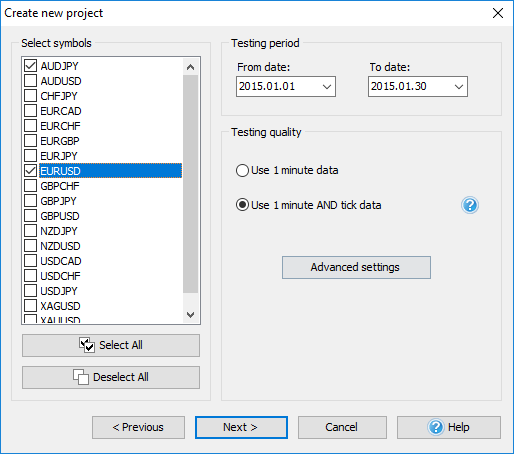 In this window, you need to activate the pairs from the list that you want to test (you can select all of them using Select All button). It is possible to test more than one currency symbol simultaneously.
In From date: and To date: fields, you need to select the start and end dates of the period that will be shown during testing.
Testing quality part of the window is responsible for the quality of the data that will be used by our program during testing.
Select "Use minute data" if you have them, or "Use minute and tick data" if you have downloaded tick historical data from our server (tick data history is available in VIP data service, please see details here). This option gives you the best testing quality.
Click the "Advanced settings" button to open the advanced settings window.
Two methods of preparing are available:
Generate ticks by OHLC points – if you select this method, each bar will contain 1-4 ticks based on Open/ High/ Low/ Close values of the given bar (less than 4 ticks are possible in the situation when Open=High, or Low=Close).
Generate ticks randomly by volume – it means that the number of ticks inside a 1-minute bar will be equal to the volume of this bar, ticks will be distributed randomly inside a single bar. We recommend using the first method of ticks generation, as it is the fastest and gives a good testing quality.
If you have activated the Use minute and tick data option, the Use floating spread option will be available in the advanced settings window. This feature is important for all intraday traders (timeframes M1, M5, M15, M30, H1) to obtain the most precise test results.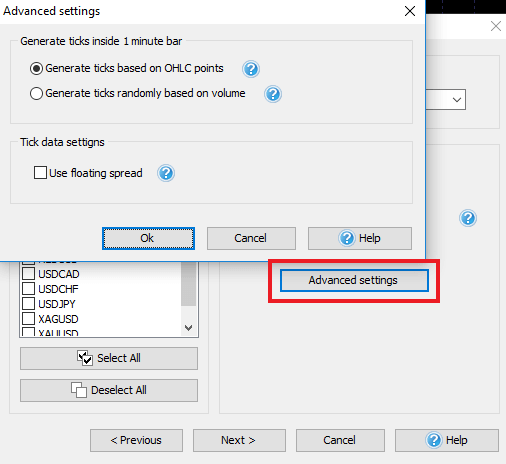 After you select all necessary parameters, please click Next button to continue.
If you created a project for several currency pairs and one of them lacks data, you will see the following window: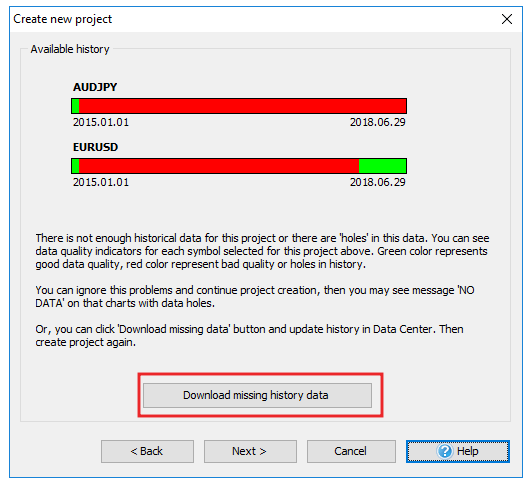 On this step you will be able to see for what period you do not have the same data in the project - it is marked in red. In this case please click the Download missing history data button and download the data for the currency pairs of this project and create project again.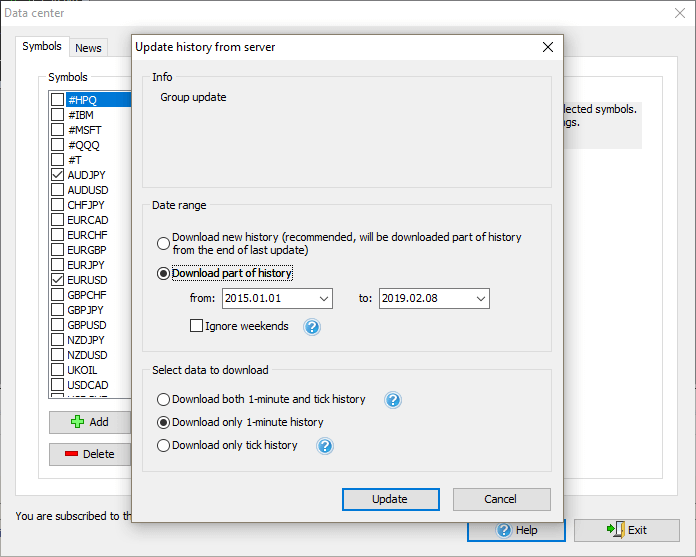 If you want to skip this step, just click the "Next" button. Bear in mind that you will see the "No data" message on the chart of the symbol with missed data after the test begins.
In the next window, you can select the time zone of historical data, use Timezone: slider for this purpose. The selected time zone will be applied to all the selected pairs for testing. Default selected time zone is GMT+0.
You can use the dropdown menu "Session close time" to determine the displaying of bars according to the closing time of the session that you need.
The program has 4 predefined Session closing times (Sydney close, Tokyo close, London close and New York) and 1 custom time.
When you select one of the dropdown menu item, the Time Zone slider automatically moves to the corresponding GMT.
By default, when creating a new project, data without applying Daylight Saving Time is used. If necessary, you can apply DST that matches your region from the drop-down list.
If you select "Start testing from the first date in range" then testing will be started from the date that you selected in "From date:" field in the previous window.
But you can also change the starting date by selecting Define first Date to start (preload history before start date) option.
In this case the testing can be started from a further date (it can be selected in Start date: field or by moving Preload days: slider) and all previous data will be shown on the chart.
This option will be useful if you immediately want to build lines/indicators based on previous bars or want to analyze previous data and start trading based on them.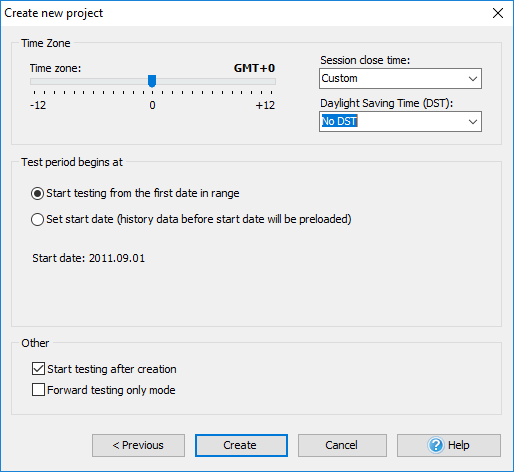 If you want to start the testing immediately after the project is created, activate the "Start testing after creation" option.
Forward testing only mode option enables mode as close as possible to real conditions. This means that you can not go backwards in your testing. You can only restart this project.
When you complete the configuration, please click Create button to finish the process of preparing data.
Test will start automatically.
If you did not activate the option "Start testing after creation", then after that you need to click the "Start test" button and the testing process will be started.

If you need to add new historical data to an existing project, please go to the Project -> Download and Update New History menu. Forex Tester will analyze your downloaded data and if it is not enough to add it to the project the program will update it from our server according to your subscription. So, you no longer have to upload this data through the Data Center and recreate the project.